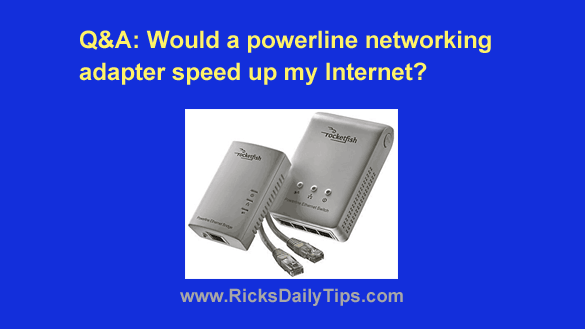 Question from Jamey:  Hi Rick. I hope you can answer a question for me.
I get my Internet from my telephone company (CenturyLink) and it's really slow. Well, at least a lot slower than it should be.
I'm supposed to be getting 10 Megs for downloads but according to SpeedTest.net it's only about 2 Megs even with my desktop computer connected directly to the modem.
Nothing else is connected at all to the Internet at all, not even with WiFi.
I have already power-cycled the modem to make sure that isn't what's causing the problem.
I read your post about powerline networking adapters and I was wondering if using one of them instead of an Ethernet cable would make my Internet any faster.
I'll really appreciate your thoughts on this. Thanks!
Rick's answer:  [Read more…]