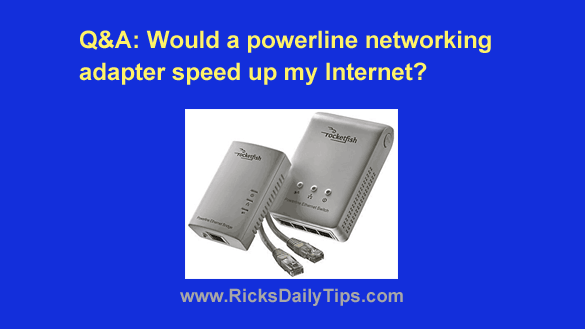 Question from Jamey:  Hi Rick. I hope you can answer a question for me.
I get my Internet from my telephone company (CenturyLink) and it's really slow. Well, at least a lot slower than it should be.
I'm supposed to be getting 10 Megs for downloads but according to SpeedTest.net it's only about 2 Megs even with my desktop computer connected directly to the modem.
Nothing else is connected at all to the Internet at all, not even with WiFi.
I have already power-cycled the modem to make sure that isn't what's causing the problem.
I read your post about powerline networking adapters and I was wondering if using one of them instead of an Ethernet cable would make my Internet any faster.
I'll really appreciate your thoughts on this. Thanks!
Rick's answer:  Jamey, there's obviously a problem with your Internet connection if you're paying for 10Mbps download speeds but only getting 2Mbps with just one device using the network.
This is an issue that CenturyLink is going to have to troubleshoot and fix because it's extremely unlikely that the problem is on your side.
I recommend that you call them up and have them send a technician out to find out what's going on.
To answer your question, a powerline networking adapter wouldn't help you in this situation because all they do is take the place of a wired Ethernet cable to make it easier to connect a computer to a router, modem or gateway that's located in a distant room.
In short, a powerline networking adapter typically won't provide a faster connection than a direct connection with an Ethernet cable.
But even if it could, the method you use to connect your computer to your router has no bearing on the download speeds the ISP delivers to your modem.
Your test has pretty much proven that your modem isn't receiving the full 10 Mbps that you're paying for. That means it's up to your ISP to figure out what's wrong and fix it.
Bottom line: There's really nothing you can do on your end to fix a slow connection between your modem and your ISP.
Your only real option here is to contact CenturyLink and ask them to send out a tech to troubleshoot the problem.
I hope this helps, Jamey. Good luck!
Bonus tip: This post discusses my favorite free tools for maintaining and repairing your PC.
---
Never miss a tip!  Click here to sign up for my free Daily Tech Tips Email Newsletter!