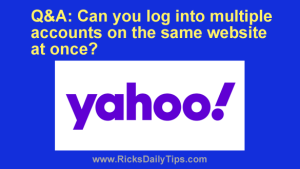 Question from Rose:  Hi, Rick. First of all let me say that I love your tips!
I hope you can help me with a problem, and I'm sure you can.
I have a total of five Yahoo email accounts that I use for different purposes and it would be a big help to me if I could log into all of them at the same time.
The problem is the only way I can log in to a different Yahoo account with Microsoft Edge is to log out of the current one first. Is there any way to log into all of them at once?  [Read more…]