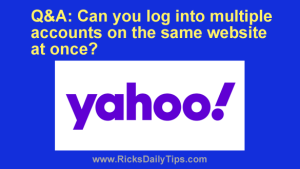 Question from Rose:  Hi, Rick. First of all let me say that I love your tips!
I hope you can help me with a problem, and I'm sure you can.
I have a total of five Yahoo email accounts that I use for different purposes and it would be a big help to me if I could log into all of them at the same time.
The problem is the only way I can log in to a different Yahoo account with Microsoft Edge is to log out of the current one first. Is there any way to log into all of them at once? 
Rick's answer: There are indeed a couple of ways to log into several Yahoo email accounts at the same time, Rose. And they are both quite easy to do.
The first way is to create multiple profiles in Edge and use each of those profiles to sign into a different Yahoo account. If you want to go that route you'll find instructions right here.
And by the way, this method will work with virtually any website that requires a login, not just Yahoo.
Now the above being said, the method I prefer (and use every day) is to simply use a different web browser to log into each account.
And as with the multiple profiles method, it works with virtually any website that requires a login.
The reason I prefer the multiple browser method is because it makes it easier for me to immediately go directly to the account I need to access at the time by simply clicking the corresponding thumbnail in the Taskbar.
Also, it's easier for me to remember which browser (and thus, which icon I need to click) to go to a specific account).
In your case, if you decide to go this route you'll need five different browsers in order to log into all five Yahoo email accounts at the same time.
Luckily, that really isn't a big deal. You already have Edge so all you need to do is download and install four more browsers. Here are several to choose from, listed in order of my personal preference:
I hope this helps, Rose. Good luck!
---