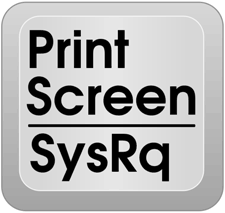 Question from Belinda L.:  Hi Rick. I remember reading somewhere that if you press key combination Ctrl+Print Screen the computer will save a screenshot image of whatever is on the screen at the time. But when I press those keys nothing happens.
I've searched my documents folder, the desktop and everywhere else I can think to look but I can't find a screenshot image. What am I doing wrong? My PC uses Windows 7.
Rick's answer:  You're not doing anything wrong Belinda, you're just not finishing the procedure.
When you press the Ctrl+Print Screen key combination (Note: the Print Screen key is sometimes labeled PrtScrn or something similar) it saves an image of the screen contents to the Windows Clipboard which is nothing more than a small section of RAM set aside as a buffer.
In order to convert that screenshot into an actual image file you'll need to open your favorite image editor (Paint, Photoshop Express etc.) and paste the contents of the Clipboard into it.
Once you have the screenshot displayed in the image editor, you can crop it, resize it or edit it just like any other image and then save it as a JPEG, BMP or other type of image file.
Since you're using Windows 7 you have Microsoft Paint already installed on your system by default. Here's how to use the Ctrl+Print Screen key combination and MS Paint in order to capture a screenshot and save it as an image file:  [Read more…]