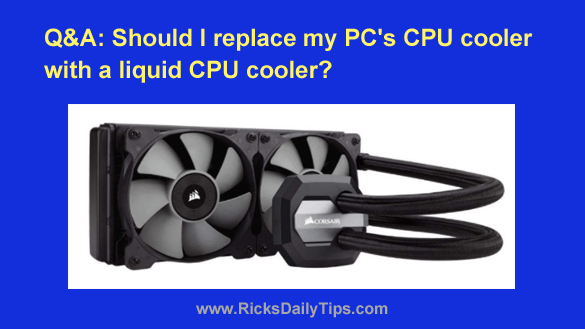 Click here to sign up for my free Rick's Tech Tips Newsletter!
---
Note: The links in this post are affiliate links.
Question from Alice:  I bought a new HP desktop computer with Windows 10 and an Intel Core i5 CPU.
Overall, I really like this computer and I want to do everything I can to make it last as long as possible.
I've read that keeping a computer's CPU cool can prevent it from over-heating and failing prematurely and that a liquid CPU cooler does the best job at that.
I want this computer to last as long as possible so I'm thinking about having my computer guy replace the existing CPU cooler with a liquid CPU cooler to keep the CPU as cool as possible while the computer is running.
I use this machine primarily for Internet (mostly Facebook and Pinterest) and watching Netflix as or playing an occasional game of "Words with Friends".
Do you think that's a good idea to replace the CPU cooler? [Read more…]