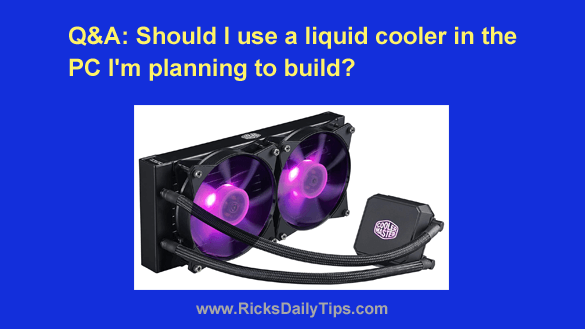 Like my tips?  Click here to sign up for my free Daily Tech Tips Newsletter and you'll never miss one!
---
Question from Daniel:  Hi Rick. I have a question about computer hardware.
I'm in the process of ordering parts to build a new computer.
I've always wanted to build one from scratch just for the experience and the satisfaction of knowing I was successful at it.
The thing is, I want make sure I really will be successful at it, which brings me to my question.
Is it safe to use a liquid CPU cooling system in a home-built computer? I'd really like to do it but some people are warning me that I'd better not because it's dangerous.
What's your opinion on liquid cooling? Is it safe, or not?
Rick's answer:  I think it's awesome that you're going to build your next PC from scratch, Daniel.
And you're right, it really is a great experience for the exact reasons you mentioned.
To answer your question, I don't recommend the use of liquid cooling devices unless they are absolutely necessary for the specific components you're going to assemble and how you're going to configure them.
I'm sure there are plenty of experienced techs that will disagree (and that's fine), but that's my recommendation based upon my own experiences with liquid-cooled computer systems over the course of many years.
Truth be told, unless you're going to build a powerful gaming PC and over-clock it to the max, a good standard air cooling system should keep your machine cool without having to deal with installing and testing (not to mention trusting) a liquid cooler.
As far as their safety is concerned, liquid coolers are generally safe as long as the following conditions are met:
1 – You choose a high-quality and thoroughly vetted cooling system that's proven itself over time to be unlikely to leak.
There are several really good ones to choose from but I won't be able to give you a specific recommendation without knowing which specific hardware components you're planning to use.
2 – The cooler is installed by a pro who has experience with choosing, installing and testing liquid cooling systems.
I know you're planning to build this machine yourself, and I think that's awesome.
However, if you're going to use a liquid cooler I do recommend that you take the mostly-assembled machine to your local computer shop and ask for their advice about choosing the best liquid cooler for your specific build.
I also recommend that you pay them a few bucks to watch you install and test the cooling system while providing guidance as needed.
Why is this important? Because even if you were to choose the most inexpensive components for your build, you're still talking about several hundred dollars, and the warranties on the parts you buy won't cover damage from a failed liquid cooler.
Here's another consideration: Even if you purchase a good liquid cooler and manage to get it properly installed, there will likely come a time when you'll need to replace a part that will require the temporary removal of the cooler.
And as you can probably guess, any time you remove a liquid cooler and then reinstall it there's always a chance it could start leaking and damage your expensive gear.
Bottom line: If you follow the guidelines listed above you should be able to use a liquid cooling system in your new PC with a high level of confidence that all will end well.
But that being said, if you're planning to build a general-purpose computer with no plans to do any over-clocking I recommend that you go with an air cooler instead.
---
If you found this post useful, would you mind helping me out by sharing it?
Just click one of the handy social media sharing buttons below. Thanks a bunch!