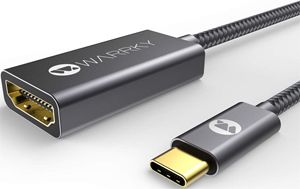 Question from Don H.:  For a while now I've been using an HP laptop and an Epson VS240 projector to display presentations to my Art History students.
The laptop's hard drive died on me a few days ago and I don't plan on having it replaced.
What I'd like to do is use my new iPad Pro and Apple's Keynote presentation app to send video to the projector.
The problem is the projector has an HDMI port but the iPad Pro has a USB-C port.
Is there a simple way to connect the iPad Pro to my projector?
Rick's answer:   [Read more…]