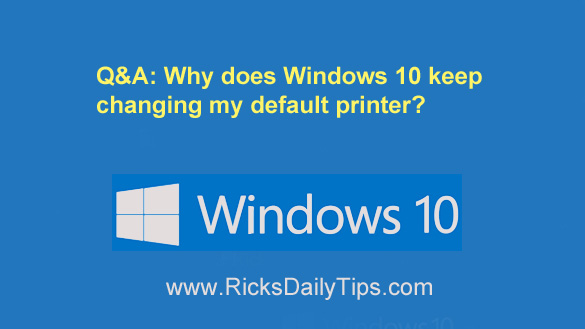 Question from Darren:  I love your blog Rick, especially the questions and answers section.
I hope you can help me solve a problem I've been having ever since I replaced my old computer with one running Windows 10.
I use two printers with my computer. The first one is an Epson inkjet that I use every now and then to print photos. The other is a Brother laser printer that I use to print most everything else.
With Windows 7 I could leave the laser printer as the default printer, then switch to the inkjet manually on the rare occasions when I needed to use it. But with Windows 10, every time I print to either printer, that printer gets set as the default printer.
I really want the laser printer to remain as the default and switch to the inkjet manually when I need it. Is there any way to stop Windows 10 from changing the default printer without my permission?  [Read more…]