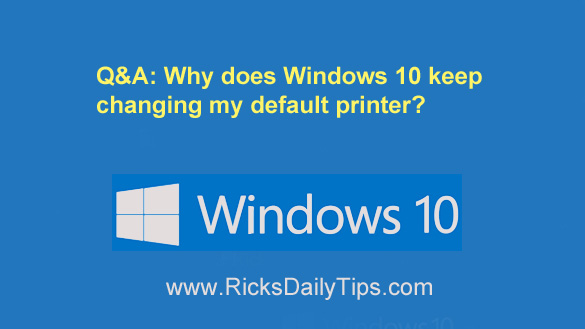 Question from Darren:  I love your blog Rick, especially the questions and answers section.
I hope you can help me solve a problem I'm having since I replaced my old computer with a new one running Windows 10.
I use two printers with my computer. The first one is an Epson inkjet that I use every now and then to print photos. The other is a Brother laser printer that I use to print most everything else.
With Windows 7 I could leave the laser printer as the default printer, then switch to the inkjet manually on the rare occasions when I need it. But I recently upgraded to Windows 10 and now every time I print to either printer, that printer gets set as the default printer.
I really want the laser printer to remain as the default and switch to the inkjet manually when I need it. Is there any way to stop Windows 10 from changing the default printer without my permission?
Rick's answer:  Darren, this is one of those changes that some people love and others absolutely despise.
Like you, I prefer to set my own default printer and not have Windows decide which one I should use the next time I need to print something.
Luckily, there's a very simple settings change that will take care of this for you. Just follow the steps below:
1 – Right-click the Start button and select Settings from the menu.
2 – Click Devices.
3 – Select Printers & scanners from the menu over in the left-hand column.
4 – Uncheck the box beside "Let Windows manage my default printer".
That's all there is to it. From now on Windows 10 will keep its "hands" off your Default Printer setting.
I hope this helps, Darren. Good luck!
Bonus tip: If you're looking for a good resource for learning the ins-and-outs of Windows 10, I recommend the awesome Windows 10 for Dummies. Don't let the name fool you – there's a ton of useful info in there!
---