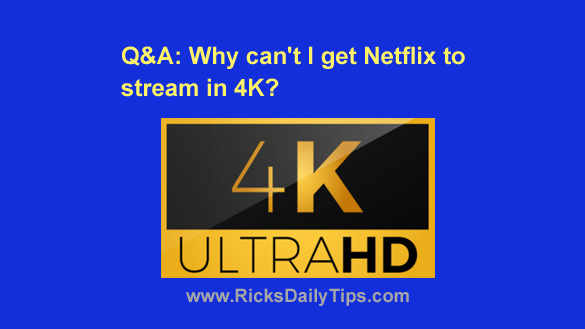 Question from Perry:  I recently bought a high-end Windows PC from Best Buy.
Here's a link to it so you can check the specs.
I asked the salesman what I would need in order to watch Netflix in 4K with that machine and he said a broadband Internet connection and some type of 4K compatible streaming device.
I told him I had a DSL connection and he said that's fine. He then recommended that I buy a Chromecast Ultra, so I did.
He told me my new computer and the Chromecast Ultra would let me watch Netflix in 4K if I used the Edge browser.
However, no matter what I try I can never get Netflix to stream at anything faster than 1080p.
I went back to Best Buy and asked what else I need to do (or buy) to get Netflix in 4K and three different people insisted that I have everything I need.
Do you have any idea what could be the problem?
Rick's answer:  [Read more…]