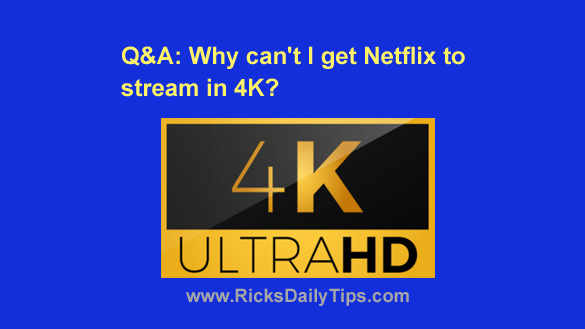 Question from Perry:  I recently bought a high-end Windows PC from Best Buy.
Here's a link to it so you can check the specs.
I asked the salesman what I would need in order to watch Netflix in 4K with that machine and he said a broadband Internet connection and some type of 4K compatible streaming device.
I told him I had a DSL connection and he said that's fine. He then recommended that I buy a Chromecast Ultra, so I did.
He told me my new computer and the Chromecast Ultra would let me watch Netflix in 4K if I used the Edge browser.
However, no matter what I try I can never get Netflix to stream at anything faster than 1080p.
I went back to Best Buy and asked what else I need to do (or buy) to get Netflix in 4K and three different people insisted that I have everything I need.
Do you have any idea what could be the problem?
Rick's answer:  Perry, the salespeople at Best Buy were correct when they said you have all the hardware you need to watch in order to stream Netflix in 4K.
After carefully reading your query I have a feeling that your problem might be your DSL connection.
While it's true that DSL is indeed broadband, some DSL connections simply aren't fast enough to handle 4K video.
When that's the case the device simply throttles the streaming speed back to the next fastest speed that's supported by your hardware and your Internet speed.
And in your case it sounds like that's 1080p.
I recommend that you contact your Internet provider and ask them to verify the download speed provided by your plan. It will need to be at least 25Mbps in order to reliably stream in 4K.
If they say your plan is for 25Mbps or more ask them if they throttle Netflix traffic. Some ISPs do and there's a chance that yours is one of them.
If they say your plan is providing at least 25Mbps and they aren't throttling Netflix traffic you'll need to check the actual download speed that's being delivered to your modem.
The easiest way to do that is to use Netflix's own Internet speed checking tool at Fast.com.
Important: In order to ensure that you get an accurate reading you'll need to make sure the only device that's connected to the Internet while the test is running is the device that's running the test.
In other words, disconnect all of your other Internet-capable devices from your router or Wi-Fi connection before running the test.
I hope this helps, Perry. Good luck!
Update from Perry:  You were right about the Internet being the problem. CenturyLink said I'm getting 10Mbps and that's the fastest I'll be able to get where I live.
I'm a little bummed out but I really appreciate your help. At least now I know what the problem is.
I'm going to check around to see if there are any faster Internet alternatives that I can switch to.
Bonus tip: Want to make sure you never miss one of my tips? It's easy! Just…
Click here to sign up for my free Rick's Daily Tips Email Newsletter!
---
Would you like to ask Rick a tech question? If so, click here and send it in!
If you found this post useful, would you mind helping me out by sharing it? Just click one of the handy social media sharing buttons below. Thanks a bunch!