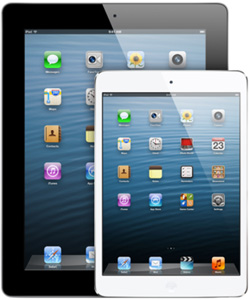 According to a study by market research firm IDC, Android based tablets, iPads and other tablet PCs will outsell laptops in the year 2013, and by the end of 2015 they will be outselling both laptops and desktop PCs combined.
Why? Well, first of all, the amazing success of the Internet has led to the decline of the traditional PC in the marketplace. The web now allows many tasks that used to only be possible using software running on a "real computer" to be completed in the "cloud", making the need for a fully equipped PC obsolete for the average user.
Not counting the ones used at work, most computers these days are used primarily for surfing the Internet, sending and receiving email, and chatting, all of which can be done quite easily and efficiently on a tablet. 
Also, Microsoft helped accelerate the mass movement from traditional computers to mobile devices by trying to make Windows look and work the same on both types of devices. This strategy has clearly been a mistake, resulting in a massive loss of market share for makers of traditional laptops and desktops as hordes of folks looking to buy a new computer opt instead for a tablet in order to avoid the much despised Windows 8.
Of course laptops and desktop computers aren't completely going away any time soon, but as their numbers continue to dwindle (as they surely will), their influence on the software side of computing will continue to diminish as well. And as fewer and fewer programs are written for use on traditional computers, still fewer of them will be sold. It's a vicious cycle, and the end looks pretty bleak for all the tech companies that missed the signs of the impending shift to mobile computing.
It's clear that together, tablets and their close cousins mobile phones are the future of computing, and as we move forward there will be fewer traditional PCs sold every year until they eventually just fade away into history except for a few holdouts in the business world.