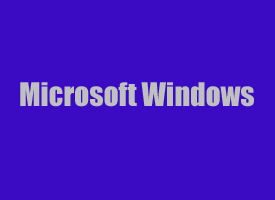 Question from Mike:  Rick, I install lots of free software and I always create a new System Restore Point before installing a program just in case something goes wrong.
And as you probably know, sometimes things do go wrong.
My boss told me that relying on System Restore isn't good enough. He said I need to create System Image backups instead, but I think that's overkill. What do you think?
Rick's answer:  Actually, you're both right, Mike. System Restore is wonderful – when it works. But it doesn't always work.
I strongly recommend that you also create a System Image backup on occasion as well. Here's why:
1 – System Restore only backs up critical system files, not your user data such as photos, music, Office files and such.
2 – As mentioned above, System Restore can and does fail sometimes. If something goes wrong and you're unable to recover from a good Restore Point, you're toast if you don't have an alternate form of backup available.
3 – If the hard drive containing your Windows installation goes bad, you'll lose your System Restore Points too since they're stored on that same drive.
4 – A System Image backs up everything on the drive, not just the critical system files and settings. It basically makes a "clone" of the drive's current data which makes it very easy to recover in case of a hard drive failure or a corrupted Windows installation.
5 – Since System Image backups are typically stored on an external drive you won't have to worry about losing your backup to the same drive failure that wipes out your PC's boot drive.
Bottom line: You can usually rely on System Restore to recover your system from issues that might arise day to day, but creating regular System Image backups will ensure that you'll also be able to recover from a catastrophic Windows corruption or hard drive failure.
You didn't mention which version of Windows you're using, but this post explains how to create a System Image backup in Windows 7.
Click here if your computer is running Windows 8.1.
For Windows 10 instructions, click here.
Bonus tip #1: This post explains how to make sure that System Restore is turned on and saving periodic Restore Points if your PC was updated from an older version of Windows to Windows 10.
Bonus tip #2: Want to make sure you never miss one of my tips? Click here to join my Rick's Tech Tips Facebook Group!
---
Do you have a tech question of your own for Rick? Click here and send it in!
If you found this post useful, would you mind helping me out by sharing it? Just click one of the handy social media sharing buttons below.