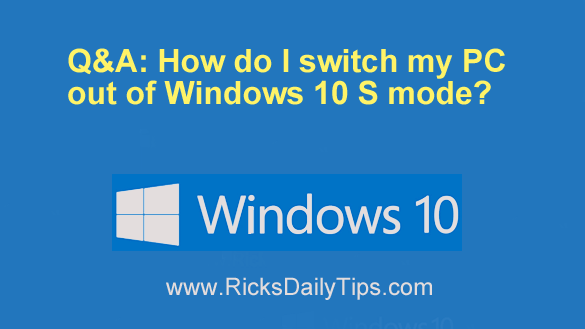 Question from Karla:  I bought a new Acer laptop a couple of months ago and I didn't realize it had Windows 10 S on it. I didn't even know there was such a thing.
I just found out that some of the software I really need to run won't work with Windows 10 S. It needs Windows 10 Home instead.
I'd just return the laptop and get a different one but the return period expired over a month ago.
I heard that you can convert Windows 10 S to Windows 10 Home for free but I don't know how to do it. Can you give me some really simple instructions? 
I've been using computers for a long time but this is all new to me.
Rick's answer:  Karla, you can indeed switch your laptop's Windows 10 installation out of S mode, essentially turning it into a Windows 10 Home machine.
And yes, you can do it for free.
However, before I explain how to do that I feel that I really need to explain this first…
Important:  Switching your laptop out of S mode into Windows 10 Home mode is a one-way street. Once you make the switch you'll never be able to switch back to Windows 10 S.
In a nutshell, that means once you have the laptop running Windows 10 Home you'll be stuck with it even if you're disappointed with the laptop's performance while running Windows 10 Home (and depending on which Acer model you bought, you just might).
I recommend that you carefully consider the above before making your final decision about making this switch.
If you ultimately decide that you do want to make the switch from Windows 10 S to Windows 10 Home you can do so by following these steps:
1 – Click the Start button.
2 – Click the Settings icon (it looks like a "gear" or "cog").
3 – Click Update & Security.
4 – Click Activation.
5 – Find the "Switch to Windows 10 Home" section and click the Go to the Store link.
Important: Make sure you don't click the link under "Upgrade your edition of Windows" because that isn't the option you need.
6 – Once you're on the "Switch out of S mode" page, click on the Get button.
That's all there is to it. After you finish following the steps above your laptop should be running Windows 10 Home and you should be able to install and run the software programs you need.
I hope this helps, Karla. Good luck!
Update from Karla:  Thanks for the info. I made the switch and I'm happy with it. The laptop isn't running quite as fast as I hoped it would but it's still a lot faster than my old one.
---