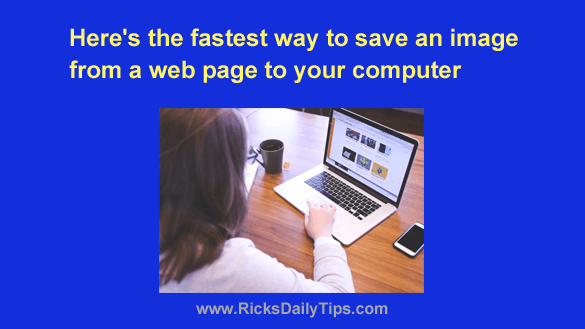 Have you ever seen a photo or screenshot on a web page that you wanted to save to your PC for some reason?
I'm sure you probably have. Most people do it like this:
1 – Right-click on the image you wish to save.
2 – Click Save  picture as…
3 – Navigate to the folder where you wish to save the image to, then click Save.
But there is a way much faster way that uses a single mouse click if you just want to save the photo to the Desktop:
1 – Click on the image with the left mouse button, then drag the image onto an empty area of the Desktop and release the mouse button.
That's it. There is no step 2! The photo now resides on your desktop. You can edit it with your favorite image editor, email it to a friend, or whatever.
A couple of caveats…
1 – While this works on most websites, it won't work on every site you visit.
Some sites are coded in a way that prevents the dragging and dropping of displayed images onto the desktop.
2 – Always remember that most of the images displayed on web pages are copyrighted and cannot be used for anything other than your computer wallpaper without asking permission from the copyright holder. Just sayin'.
Bottom line: While this method of saving images doesn't work on every website, it does work on the vast majority of them. And when it works it can be a real time saver!
Bonus tip: This post explains how to quickly change the text size in your web browser.
---