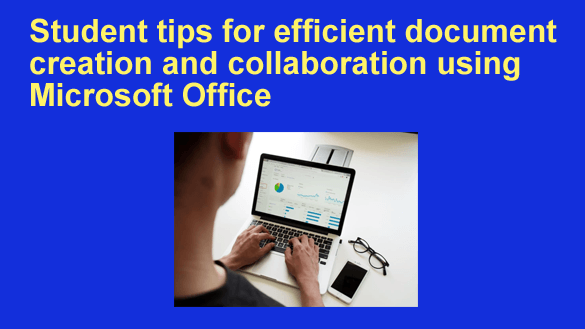 In today's fast-paced technological world, where information flows like a river, mastering the art of creating and collaborating on documents is a game-changer.
Whether you're a seasoned professional or just dipping your toes into the world of Microsoft Office, this article is your trusty guide to boosting your efficiency, conquering the virtual paper trail, and becoming a document dynamo. 
Imagine crafting documents with the grace of an expert, seamlessly working with others in perfect harmony, and unleashing the full potential of Microsoft Office like a pro. From the iconic trio of Word, Excel, and PowerPoint to the collaborative wonders of OneDrive and SharePoint.
Let's delve into timesaving tips, smart shortcuts, and collaboration hacks that will elevate your document game to the next level.


Mastering the Essentials: Microsoft Word
Microsoft Word is your trusty comrade for crafting everything from reports that mean business to essays that impress your professors. Let's dive into some tricks that make you feel like you have magic at your fingertips.
Formatting Feats: Taming the Text
Formatting might sound like tech jargon, but it's the art of making your words look right. Imagine giving your document a makeover – you can choose fonts, adjust sizes, make things bold or italic, and even add colors.
Templates: Your Creativity's Best Friend
Ever stared at a blank page, wondering where to start, and thought of hiring a term paper writer to compose the paper for you? That's where templates swoop in like heroes. They're pre-designed layouts that give your document a stylish foundation. Whether it's a resume that shines or a newsletter that pops, templates are your creative allies.
Styles: Consistency
Picture this: You're crafting a project, and each section has a different font and size. Sounds like chaos? Styles are here to rescue you. They keep things consistent – headings are uniform, paragraphs flow seamlessly, and your document feels like a unified masterpiece.
Page Layout
Say goodbye to weird spacing and awkward page breaks. Page layout tools let you control how your document looks on the page. Margins, orientations (portrait or landscape), and columns – you're the boss, and your document's appearance obeys your every command.
Tables and Lists
Creating neat tables for comparisons or lists for easy reading is a piece of cake. No more struggling to align things properly – Word's got your back. Tables are like organized grids; lists keep your content tidy and scannable. Perfect for those moments when clarity matters most.
Headers and Footers
Headers and footers are like the bookends of your document. They can hold page numbers, titles, and other info that give your document a professional touch. Imagine handing in a report with your name proudly displayed at the top – that's the magic of headers and footers.
Proofreading and Collaboration
Ever sent a document with a sneaky typo? We've all been there. Word's proofreading tools catch those little errors, ensuring you turn in impeccable papers.
Supercharge Your Spreadsheets: Excel Excellence
If you've ever looked at a spreadsheet and felt like it's a maze, fear not. We will equip you with skills to turn you into a spreadsheet superhero. Imagine cells as tiny compartments where numbers, text, and formulas party together. We're talking about that neat little box where you type stuff. You'll learn how to format cells, make numbers stand out with boldness and colors, and even add attractive borders.
The formula magic in Excel will make you say farewell to manual calculations. They are like magic spells that make Excel crunch numbers faster than you can say "calculator." Whether adding, subtracting, multiplying, or dividing, formulas handle the heavy lifting, saving you time and brainpower.
Sorting and Filtering in Excel helps you learn how to organize data like a pro, arranging it in ascending or descending order. Filtering lets you focus on what matters most – it's like decluttering your data desk.
Numbers tell a story, and charts and graphs in Excel are your storytellers. Turn dry data into eye-catching visuals that make trends pop. Whether a pie chart or a bar graph, your data will go from boring to showstopper, giving your audience a clear picture of what's what.
Ever wished your spreadsheet could do more than sit there? Form controls in Excel are your ticket to interactivity. We're talking checkboxes, drop-down lists, and buttons that let you control your spreadsheet like a boss.


Presentation Perfection: The Art of PowerPoint
PowerPoint is like your virtual canvas; you paint your ideas and captivate hearts. If you've ever felt like your presentations were more "blah" than "wow," get ready for tips to transform you into a presentation powerhouse.
Ever seen a slide that looked like a plain white wall? We're leaving that behind. PowerPoint Slide design is all about giving your audience a visual feast. We're talking about backgrounds that set the mood, text that's easy to read, and images that pop like fireworks.
Going from one slide to the next doesn't have to be an annoying jump. PowerPoint slide transitions are your ticket to smooth sailing. Imagine fading, sliding, or flipping from one slide to another. It's like a cinematic experience, where your presentation flows seamlessly, keeping the audience engaged and eager for what's next.
Do you know what makes a presentation unforgettable? Media magic. Imagine embedding images that illustrate your points, videos that bring concepts to life, and even audio that adds an extra dimension. It's like turning your presentation into a multimedia masterpiece, where every slide tells a story.
Feeling nervous about forgetting what to say? PowerPoint speaker notes are your secret weapon. They're like your presentation cheat sheet, a place to jot down key points, reminders, and anecdotes. You'll confidently deliver your presentation with speaker notes without missing a beat.
Ever wanted your audience to participate in your class presentation? PowerPoint has your back. Think of interactive elements like clickable buttons or hyperlinks that take your audience on a journey. You'll engage them like never before, making your presentation an interactive experience they won't forget.


Closing Remarks
Mastering Microsoft Office is your ticket to productivity paradise. It's like having a magic wand that turns your everyday tasks into smooth, efficient operations. From crafting slick documents in Word to becoming a spreadsheet superstar in Excel, from dazzling the crowd with PowerPoint to collaborating like a pro, this Office adventure is a game-changer.
Remember, it's not about being a tech genius. It's about tapping into the awesome tools and making them work for you. Efficiency isn't just a buzzword; it's the golden key to getting more done in less time.


---