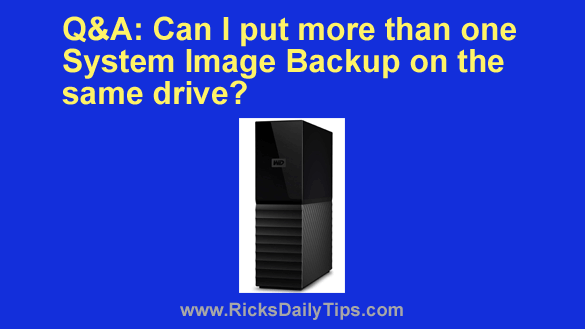 Question from Juliene:  Hello, Rick. I'm a long time reader of your blog and I've read your posts about making System Image backups with Windows.
Your instructions are very good and easy to follow.
I've made three backups so far for my laptop but I just noticed that there's only one backup on my external hard drive. I'm assuming it's the last one I made?
My question is can I store more than one backup on the same drive? I have an 8TB external drive so there should be plenty of room for multiple backups.
I'm the paranoid type by nature and I like having other backups to fall back on in case the most recent one doesn't work for some reason.
Rick's answer:  Hi, Juliene. First of all, thanks for the kind words about my blog. I appreciate them very much.
To answer your question, an 8TB external drive is indeed large enough to hold several System Image backups.
But as you've discovered, when you create a new backup Windows replaces the existing backup with the new one. I've never figured out why Microsoft doesn't fix this glaring oversight because it really is a good thing to have redundant backups.
The above being said, there is an easy way to store multiple backups on the same drive. All you have to do is rename the current backup folder before you begin creating the new backup. Here's how:
1 – Connect the external drive you use to store your backups to your PC.
2 – Press the Windows+E key combination to open "File Explorer".
3 – Double-click on the external drive to view its contents. You should see a folder named WindowsImageBackup listed among the other files and folders. That's the folder containing the existing backup.
4 – Right-click on WindowsImageBackup and select Rename from the drop-down menu.
5 – Append the current date to the end of the existing folder name. In other words, change WindowsImageBackup to something like WindowImageBackup-1-12-2023.
6 – Now go ahead and create your new System Image Backup using the same procedure you used before.
A new backup folder will be created with the name WindowsImageBackup, but the previous backup will also remain on the drive with the new name you assigned to it (i.e. WindowsImageBackup-1-12-2023).
7 – The next time you create another new backup, repeat steps 1 – 5 but rename the existing WindowsImageBackup folder by appending the current date to it.
For example, if the date happened to be February 5, 2023 you would rename the file to WindowsImageBackup-2-5-2023.
That's all there is to it. After you've created several backups you'll have several corresponding backup folders that look something like this in File Explorer:
WindowsImageBackup
WindowsImageBackup-5-5-2023
WindowsImageBackup-4-3-2023
WindowsImageBackup-3-8-2023
WindowsImageBackup-2-5-2023
WindowsImageBackup-1-12-2023
You'll know at a glance that WindowsImageBackup is the most recent backup you made. The oldest one will be the one with the earliest date.
The other backups will be listed in order based upon their creation dates.
Just keep renaming the latest backup folder by appending the current date to it and you'll be able to store as many backups on your external drive as it's storage capacity will allow.
If you ever need to restore your PC's hard drive from a System Image backup, simply use the most recent backup (WindowsImageBackup) to complete the process.
However, if restoring from the most recent backup fails for some reason, just delete that backup folder and rename the next most recent backup folder to WindowsImageBackup and initiate the restore procedure once again.
I hope this helps, Juliene. Good luck!
Update from Juliene: Thanks, Rick. This helps a lot.
---