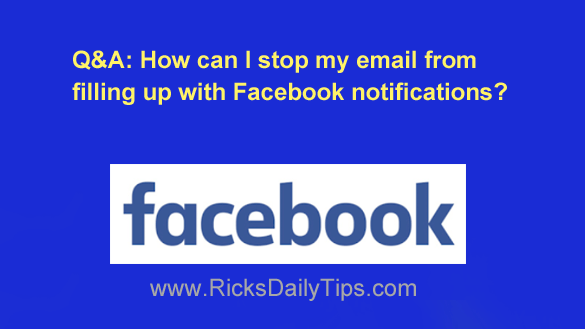 Question from Sara:  Facebook sends dozens of email notifications every day to my email account and it's really a pain having to delete them before I can even begin checking my email.
I'm logged into Facebook for much of the day and see most of the notifications as they come in so I don't really need to get them via email too. Can I just turn them off altogether? Thanks!
Rick's answer:  I understand your frustration over receiving all those notification emails, Sara. I got tired of them pretty quick myself after I first opened my Facebook account.
Luckily, it's very easy to block the emails for routine notifications while still allowing the really important ones to come through (which I strongly recommend). Just follow the steps below for the device you use to access Facebook.
Follow these steps if you access Facebook via a web browser on a laptop or desktop computer:
1 – Click on the down arrow on the right-hand side of the menu bar near the top of the Facebook window.
2 – Click Settings & Privacy.
3 – Click Settings.
4 – In the far left-hand column, click Notifications.
5 – Scroll down to the "How You Get Notifications" section and click Email.
6 – Select Only notifications about your account, security and privacy.
Follow these steps if you use the Facebook app on a mobile device:
1 – Tap the Menu icon (it looks like three horizontal lines stacked atop one another).
2 – Tap Settings & Privacy.
3 – Tap Settings.
4 – Scroll down to the "Notifications" section and tap Notification Settings.
5 – Scroll down to the "Where you Receive Notifications" section and tap Email.
6 – Tap Email Frequency and then select Only about your account.
That's all there is to it. From now on the only emails you'll receive from Facebook will be important administrative notifications that you really don't want to miss.
Bonus tip: Want to learn all the ins-and-outs of Facebook? Just get yourself a copy of Facebook All-in-One For Dummies (#ad),  a comprehensive Facebook resource that I find myself using almost every day!
I hope this helps, Sara. Good luck!
Update from Sara:  You're a lifesaver Rick. I made the change this morning and I haven't received an email from Facebook since then. Thanks a lot!!!
---
If you found this post useful, would you mind helping me out by sharing it?
Just click one of the handy social media sharing buttons below. Thanks a bunch!