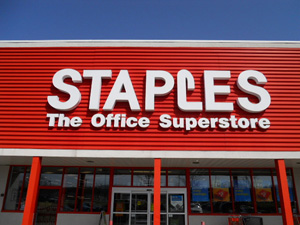 Another day, another major hack. This time the victims were folks who shopped at one of the company's 1,400 brick and mortar retail stores during much of 2014.
If you shopped at a Staples retail store between April and October 2014 and paid for your purchase(s) with a credit or debit card, I recommend that you check this list carefully to see if your store had its Point of Sale System hacked. It very well could have. 
If you find your store on the list and you shopped there during the time period listed for that store, your credit card and personal information was likely stolen. If that's the case, this page on the Staples website has links to free assistance with mitigating the damage.
Bottom line: I often hear people say they are afraid to shop online, but the recent hacks into a number of major retail chains' brick and mortar point of sale systems prove that it's just as safe shopping online as it is to shop locally if you prefer to pay for your purchases with plastic.
Personally, I believe it's actually safer to shop with plastic online since the major online retailers have so much more experience with preventing hackers from breaking into their systems.