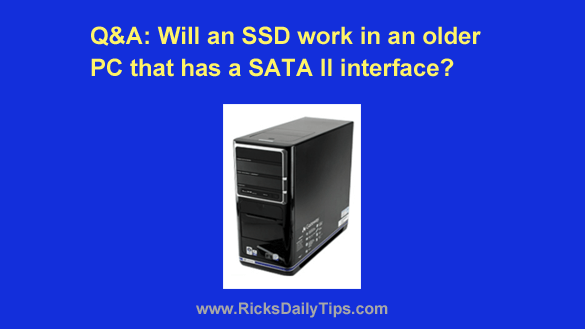 Click here to sign up for my free Rick's Tech Tips Newsletter!
---
Note: The links in this post are affiliate links.
Question from Richard G.:  Hi Rick. I hope you can answer a question for me.
I have an old Gateway LX6810-01 desktop PC that came with a 640 Gig hard drive. The hard drive died and I want to replace it with a solid state drive (SSD).
My cousin has offered to sell me an unused 1TB Gig SSD for $45 which is half what he paid for it a just couple of weeks ago. He wants to sell it because he found out it won't work with his old Leading Edge computer.
My question is will this drive work in my computer since the old hard drive had a SATA II interface and the SSD is SATA III? 
Rick's answer:  Richard, SATA III is backwards compatible with SATA II so your cousin's SSD should work just fine in your computer.
It sounds like it's a great deal too, so I say go for it.
Even though your computer only supports SATA II speeds, installing a SATA III solid state drive will still speed your machine up quite. In my opinion, it's well worth the expense if you wan to keep using your beloved Gateway.
And since you're essentially getting it for half price I just don't see how you can go wrong.
Just be aware that you'll also need a 2.5″ to 3.5″ drive mounting bracket adapter to physically install the SDD in your machine.
You might be able to find one of these adapters at your local electronics store, but if not I recommend that you order this one from Amazon. It's dirt cheap but it works perfectly!
And by the way, if your cousin's old Leading Edge PC is still working, that's fantastic! Those were great machines back in the day but they're true dinosaurs as computers go. Tell him I said congrats!
Bonus tip: For anyone reading this who might be unfamiliar with the advantages of solid state drives over hard drives, this post explains why replacing a computer's hard drive with an SSD is one of the best upgrades you can make.
---
Cick here to ask me a tech question.