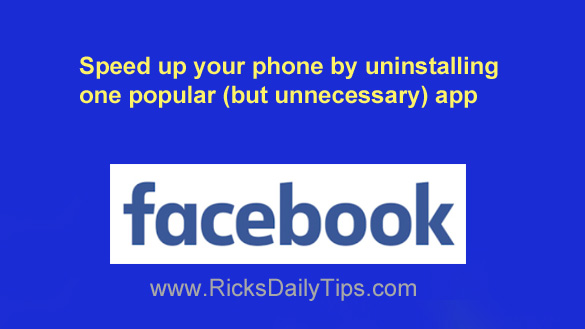 Does your smartphone seem sluggish and slow compared to the way it ran when you first got it?
If so, there is one hugely popular, but quite unnecessary app that could be slowing your phone down to a crawl.
Chances are you use this app every single day, even though you don't really need it and you'll give up absolutely nothing by removing it.
If you guessed that I'm referring to the Facebook app, you're absolutely right.
Plenty of apps are memory and resource hogs, but the Facebook app is in a class all by itself in that regard.
I'm going to let you in on a little secret…
You can uninstall that behemoth of an app and still use Facebook on your phone (or tablet) just like you always have.
All you have to do is sign into your existing Facebook account via your favorite mobile web browser instead of the app!
That's right, Facebook works just fine in a mobile browser without causing your phone to get cluttered up with all the app-related junk that builds up over time as you use the app.
Once you're sure you're able to log into your account via a web browser you can follow the steps below to uninstall the app from your device.
And here are a couple of other secrets…
1 – Using Facebook in a browser instead of the app will probably make your phone's battery charge last longer as well.
2 – Switching from the Facebook app to the Facebook mobile website won't require you to open a new account.
Simply open your favorite browser on your phone and visit Facebook.com, then type in your login credentials. You'll be up and running with your same Facebook account in seconds!
Pretty cool, right? If you agree you can follow the steps below to uninstall the Facebook app from your phone.
Important: If you have the Facebook app set to log you in automatically make sure you have your login credentials on hand before you uninstall the app.
If not, you'll have to try to reset your Facebook password, and unfortunately that isn't always possible.
To make sure that you have the correct login credentials, I strongly recommend that you load Facebook in a mobile browser and try logging into your account from there before you uninstall the app.
As they say, better safe than sorry!
Once you're sure you can log into Facebook via a browser you can follow the steps below to uninstall the app.
Follow these steps if you have an Android device:
1 – Tap the Settings icon (it looks like a "gear" or "cog").
2 – Tap either Apps or Apps & notifications (depending on which label your particular phone uses).
3 – Find the Facebook app in the apps list and tap on it.
Note: You might need to tap the See all XX apps link to find the entry for the Facebook app.
4 – Tap Uninstall.
Follow these steps if you have an iPhone or iPad:
1 – Tap and hold your finger on the Facebook app icon until an X appears.
2 – Tap the X and then tap Delete.
That's all there is to it. The Facebook app should now be gone from your device and you can start using Facebook in your mobile web browser.
And now, one final suggestion…
While you're uninstalling the Facebook app that's a perfect time to look through your apps list and uninstall any other apps that you never use.
Every app you remove from your device will free up valuable storage space and potentially make the device run faster.
Bottom line: You don't need the bloated, resource and battery hogging Facebook app in order to use Facebook on your smartphone or tablet.
I strongly recommend that you uninstall it and use Facebook in a mobile web browser instead!
Your patience (and your device's battery) will thank you.
---
Never miss a tip!  Click here to sign up for my free Daily Tech Tips Email Newsletter!