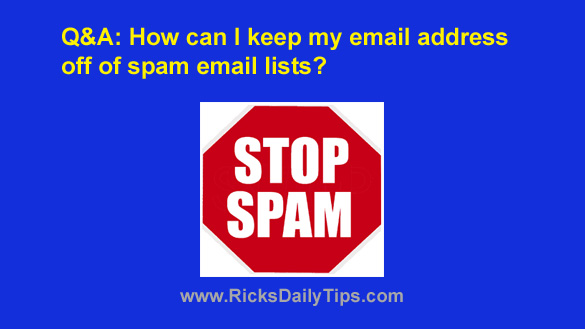 Question from Lisa:  My email account is receiving so much SPAM that I'm ready to ditch it and set up a new one.
Is there a trick for setting up an email address so that it won't end up on some spammer's email list?
Would something like putting numbers in the middle or along the lines of [email protected] work?
Rick's answer: I wish that would work Lisa, but I'm afraid it isn't that simple.
The format of an email address has nothing to do with how easy it will be for unethical Internet marketers and spammers to "find" it and add it to their mailing lists.
But that being said, there are a few things you can do to reduce the risk of having your email address added to those lists:
1 – Use your primary email address ONLY for communicating with other private individuals such as trusted friends, family and co-workers.
2 – NEVER use your primary email address to open an account on ANY website except for your bank's. This even includes legitimate Internet retailers as well as discussion forums and blogs.
If you break this rule even once your email address will be on a dozen mailing lists before your head even hits your pillow that night.
Why? Because somewhere in the fine print there is almost always a section that gives them the right to harvest your email address and sell it to other companies for marketing purposes.
I recommend creating a secondary email address (use Outlook.com or Gmail) just to use for opening and corresponding with online accounts.
3 – NEVER use your primary email address to register for a contest or any type of "freebies" offer (for the same reason stated in #2 above).
4 – NEVER use your primary email address to leave a comment on a blog post, a message of condolence on an obituary or anywhere else where a bot will be able to find it on a website.
Spammers use automated bots to crawl websites of all types and "scrape" all the email addresses they can find and place them on a SPAM email list.
If your email address ends up being displayed on ANY website it'll quickly be added to multiple SPAM lists. And once it lands on that first list you'll never be able to stop the inevitable deluge of SPAM messages from hitting your email inbox.
5 – Don't use your primary email address to sign up for an account with Facebook, Pinterest, LinkedIn or any other social media site.
If you've already done so, I recommend that you log into your account(s) right away and change the registered email address to your secondary (i.e. junk) email address.
6 – If you ever receive a SPAM email on your "clean" email account, DO NOT click the Unsubscribe link in that email. All that will do is let the spammer know your email address is valid and there's a human checking the emails that are sent to it.
Once they have confirmed that your email address is "active" they'll place it on an "Active Emails" list and sell it to other spammers. From that moment forward your email address will never be free from spam again.
Important: If you actually signed up to receive emails (i.e. willingly joined a mailing list), the emails you receive from that list aren't SPAM.
In that case it's best to go ahead and unsubscribe by clicking the Unsubscribe link. That's the best way to unsubscribe from a legitimate mailing list that you simply want to stop receiving mail from because clicking the SPAM button will unfairly penalize the company or newsletter publisher.
Bottom line: Once an email address lands on a mailing list, it will never, ever be junk mail and spam free again. That's just a sad fact of Internet life.
The only way to have a spam and junkmail-free email account is to create a brand new one and use it ONLY for conversing with trusted friends, family and acquaintances.
And even then, there are no guarantees, especially if the recipients of your emails forward them to other people.
Bonus tip: This post explains why you should cancel all of your unused email accounts.
---