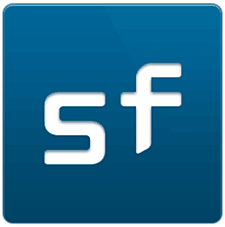 For many years SourceForge was my favorite site for downloading free software because they didn't bundle third-party add-on programs (aka sneakware) with their installation files.
Well, that all changed in July 2013 when the folks at SourceForge decided to follow in the footsteps of their competitors by joining the widely-despised DevShare program.
In a nutshell, the DevShare program allows download sites to earn extra cash by bundling additional software with the programs that users download from the site.
The problem is the "extra" (and almost always unwanted) software will usually be installed by default along with the downloaded program unless the user unchecks one or boxes to "unbundle" the add-on programs. And those check boxes are typically pretty hard to notice, or even find. 
Since most users don't know that the installer will install the extra programs by default, they end up with unwanted software on their computers that slows their systems down, hijacks their web browsers, or even worse. Hence the term sneakware.
When SourceForge dove headlong into the sneakware abyss, I stopped recommending their site for downloads unless there was simply no other alternative source for a particular piece of free software.
For those times when I felt that I had to recommend them, I wrote a post that explains how to avoid installing unwanted third-party add-ons when installing free software.
Now I'm happy to announce that SourceForge has been sold, and the new owners have decided to abandon the DevShare program and once again start providing clean downloads that don't include any sneakware.
Therefore, I'm back to using Sourceforge when I need to download a free program, and I'm once again recommending them to my readers.
You can read more about this development in this SourceForge blog post.
If you like this post you can get my latest tips in my weekly RicksDailyTips Email Newsletter. Sign up for free at the bottom of this page!