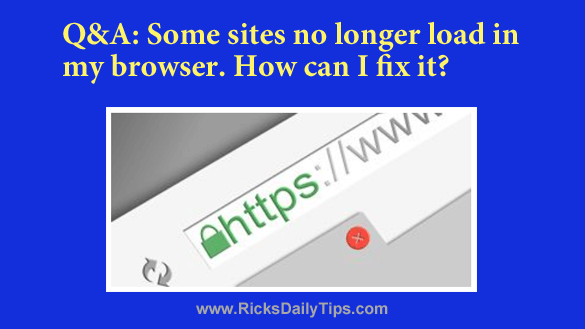 Click here to sign up for my free Rick's Tech Tips Newsletter!
---
Question from Andy:  I need help with an Internet issue, Rick.
Several websites that used to load just fine won't load anymore. They either just sit there and try to load forever or I get an error message.
The crazy thing is most websites still load ok. It's just a handful of specific sites that won't load.
Can you please help me fix this?
I don't think it's a problem with my web browser because the same sites fail to load no matter which browser I try.
I also don't think it's a problem with my Internet connection (Charter Spectrum) because all the other computers in the house will load these websites with no problem.
My computer is a Lenovo laptop with Windows 10.
Rick's answer:  Andy, there are several possible issues that can cause this type of problem, but I think you've already ruled out two of them since you've tried multiple browsers and the other computers in your house are working normally.
One possibility is your PC has a malware infection that's hijacking your web browsers (or at least attempting to).
The first thing I recommend that you do is run all the scans mentioned in this post to track down and remove any malware that might have made its way onto your hard drive.
If that doesn't fix the problem, the next thing to try is flushing your computer's DNS cache.
The data contained in the DNS cache helps your computer quickly locate and navigate to your favorite websites, but if some of the entries in the cache become corrupted or outdated your browser won't be able to "find" those sites.
Follow the steps below to flush the DNS cache on your machine:
1 – Sign into Windows with an Administrator account.
2 – Press the Windows+S key combination to open a Search box.
3 – Type cmd into the Search box, then right-click on Command Prompt and select Run as administrator from the drop-down menu.
4 – Type (or copy and paste) the following at the command prompt, then press the Enter key:
ipconfig /flushdns
That's all there is to it. Your computer's DNS cache should now be clear and ready to start collecting a fresh batch of entries as you surf the Internet.
Hopefully the malware scans and/or DNS cache flush resolved your Internet issue. If not, let me know and I'll tell you what to try next. Good luck!
Update from Andy:  Thanks for your help Rick. It's working now. The malware scans did find a few things and removed them but it was the DNS flush that fixed the problem. Thanks again.
Bonus tip: This post explains how to quickly check your Internet connection's actual upload and download speeds to make sure you're getting all the speed you're paying for under your Internet service plan.
---
Cick here to ask me a tech question.