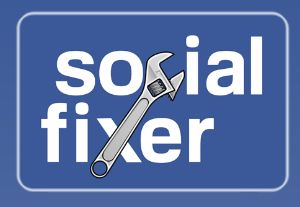 Do you use Facebook on a laptop or desktop computer?
If so, you're probably familiar with one or more of these common annoyances:
Facebook is constantly switching your Newsfeed from "Most Recent" to "Top Stories"
You keep seeing the same "Sponsored Posts" over and over again
Political posts (and the arguments they generate) get your blood boiling
You receive an important message from someone who isn't on your friends list but Facebook hides it from you by placing it in the "New Message Requests" folder
One of your Facebook friends "unfriends" you but you don't find out about it until much later because Facebook didn't let you know that your friend had unfriended you
All of these annoyances (and many more) have irritated me at one time or another, and I'm guessing they've irritated you as well.
Luckily, there's a very easy way to eliminate all of these Facebook annoyances and more in one fell swoop…Simply install the awesome Social Fixer browser extension.
Once installed on your web browser, you can use Social Fixer to make Facebook a lot more enjoyable to use by eliminating any or all of the annoyances listed above.
What's more, you can also choose to hide sections of your Newsfeed that you have no interest in seeing, plus make several other tweaks that will enhance your Facebook experience.
Installing and using Social Fixer is easy. Simply follow the steps below:
Note: Social Fixer only works when using Facebook in a web browser on a laptop or desktop computer. It isn't available for mobile devices, unfortunately.
1 – Click here to visit the Social Fixer website.
2 – Select the Download link from the menu at the top of the window.
3 – Click the blue Download from [browser name] NOW! button for your browser.
4 – Click the Add to [browser name] button and follow the prompts to install the extension.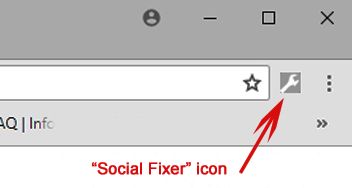 After Social Fixer has been successfully installed you should see a new icon.
(See screenshot at right)
5 – Click the Social Fixer icon (it looks like a wrench).
6 – Select Options from the drop-down menu.
You should now all the options available on the "General" tab of the Social Fixer "Options" screen.
7 – Check the box for every option you would like to enable on your Facebook account.
8 – After you're finished with the "General" tab, select the other tabs in turn and make your changes as desired.
9 – After you have finished making all the changes you want to make, click the Save Changes button.
10 – Close your browser and then reopen it to make your changes take effect.
That's all there is to it. Assuming you chose that option, your Facebook Newsfeed should always stay on "Most Recent" and the other annoyances you chose to eliminate in the options should no longer rear their ugly heads.
Bonus tip #1: This post explains how to protect your Facebook account from hackers.
Bonus tip #2: Want to make sure you never miss one of my tips? Click here to join my Rick's Tech Tips Facebook Group!
If Facebook isn't your cup of tea, I invite you to sign up for my Rick's Daily Tips Daily Update Newsletter.
---
Want to ask Rick a tech question? Click here and send it in!
If you found this post useful, would you mind helping me out by sharing it? Just click one of the handy social media sharing buttons below.