The other day I wrote about how Oath's new Terms of Service (TOS) totally trash your privacy if you use either Yahoo Mail or AOL Mail.
After that post went live I received several emails asking me about Flickr, Yahoo's ultra-popular photo hosting service. 
In a nutshell, most of those folks wanted to know whether they should switch from Flickr to a different photo hosting service.
I hesitated to answer those questions before I had a chance to research the options available to Flickr users, and now I'm glad I put off answering them.
As it turns out, rival photo hosting service SmugMug has just purchased Yahoo's Flickr division from parent company Oath, removing the need to even consider moving your Flickr-hosted images to another service (at least for now).
I started to log into Flickr this morning and this is what I saw when I loaded the home page: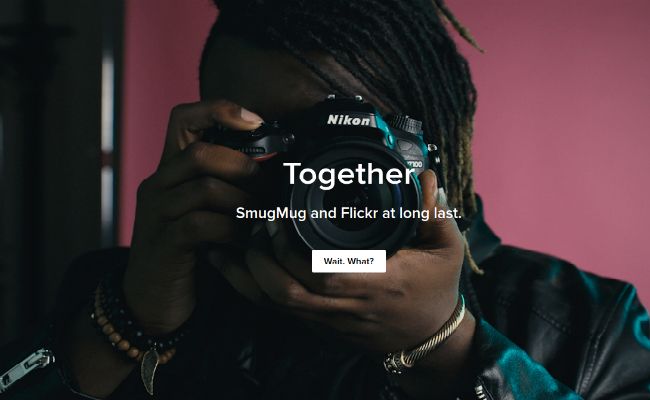 I then visited SmugMug's website and and was greeted by the same exact message.
A quick check on Google News confirmed that SmugMug has indeed purchased Flickr from Oath, and I'm guessing that this won't be the last Yahoo property to be put up for sale.
In fact, I wouldn't be surprised at all if Oath doesn't end up selling off everything they own that's related to Yahoo in bits and pieces. In fact, I fully expect that Yahoo will soon cease to exist as a brand.
Warning: I'm about to step up onto my soapbox for a moment…
This is very sad for in a way.
Yahoo was the king of the Internet back in the early days of the World Wide Web.
There was no Google back then. If you wanted to search for something you used Yahoo.
There was no Gmail. If you wanted to send and receive emails you either used Yahoo, AOL Mail or Hotmail (which is now Microsoft's Outlook.com).
In those days the Yahoo home page was the first thing most people saw when they opened their web browsers.
And why not? Yahoo had everything most people needed and wanted back then. And it all worked perfectly and your privacy wasn't at risk of being sold out for an extra dollar.
But sometime between then and now Yahoo began to lose its way. They started buying up smaller companies and adding their services to their own portfolio. And in the process they lost touch with the human side of their business model.
The dollar became more important than the people they served, and now it's costing them big time.
Of course every public company's primary mission is to earn as much revenue for its shareholders as ethically and legally possible, but there are practical and logical limits to what they can and should do to reach that goal.
Every time a company over-reaches and puts profits ahead of user satisfaction they end up losing in the long run.
It appears that Yahoo/Oath and the big-wigs that run them never quite learned that lesson, and now the shareholders they have a fiduciary responsibility to protect are paying the price.
Ok, now I'll climb down from my soapbox…
Here's the bottom line: You don't have to close your Flickr account in order to give Yahoo the boot (at least for the time being).
Flickr is now owned by SmugMug and its users are now bound by SmugMug's TOS instead of Oath's.
I haven't yet had a chance to go through SmugMug's TOS to see if they're also playing fast and loose with your privacy, but I'll be doing that ASAP. I'll let you know what I find out.
Bonus tip #1: This page explains how to move your contacts and emails from Yahoo to Gmail.
Bonus tip #2: Want to make sure you never miss one of my tips? Click here to join my Rick's Tech Tips Facebook Group!
---
Want to ask Rick a tech question? Click here and send it in!
If you found this post useful, would you mind helping me out by sharing it? Just click one of the handy social media sharing buttons below.