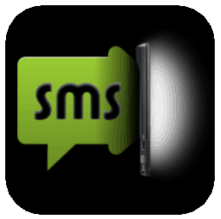 Have you ever received an important text message but didn't know it until much later because you didn't hear the audible alert? Me too, and it's rather annoying. But there's an easy way to prevent this from happening in the future.
A nifty free Android app called SMS Wakeup will turn on your phone's screen momentarily whenever a text message hits your inbox. Whenever the app is active, as long as you keep your phone where you can see it you can rest assured that you won't miss another important text message that really needs to be answered ASAP.
SMS Wakeup also comes in a paid version ($0.99) that has some extra features, but the small and lightweight free version is all you're likely to need. You can read more about SMS Wakeup (and download it) from the Google Play Store.