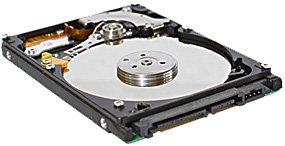 Question from Eugene N.:  Rick, I have a 2 year old laptop computer that I fear might have a failing hard drive. I'm a professional photographer and I primarily use this PC for editing my photos.
Everything was working fine until late last night, but now every time I turn the computer on I get an error stating that the hard disk is in danger of failing and I need to run the hard disk test in system diagnostics.
When I run the disk test it says "SMART Check: FAILED". Do you think I need to just go ahead and have the hard drive replaced or is there a way to fix this error?
I sprung for a 2 year extended warranty when I bought the laptop, but I'm not sure it'll cover the repair if it turns out to be a software problem. I'm not worried about losing any data though because I create a new system image after I download the photos from every shoot.
Rick's answer:  Your hard drive is getting ready to go belly up at any moment Eugene. If I were you I'd contact whoever your extended warranty is with and find out what you need to do to get it replaced.
My personal experience has shown that the SMART check is a very accurate indicator of the overall health of the drive, and when it fails you can expect the drive to fail before too long.
As for the extended warranty, in no way is this a gray area. A bad hard drive should certainly be covered.
Bonus tip: This post explains how replace the hard drive in a laptop. This one explains why you should consider replacing it with a solid state drive (SSD).
---
Do you have a tech question of your own for Rick? Click here and send it in!
If you think your friends would like this post, I'd love you to share it! Thanks a bunch!