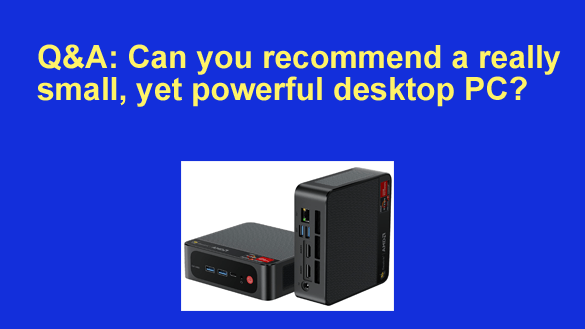 Note: The links in this post are affiliate links.
Question from Stanley: A while back I spent some time shopping around for a small brick-sized desktop computer, and as I recall they all seemed to be fairly under-powered.
I'd love to find a really small desktop PC that will fit on the bookshelf above my desk, but I'd like for it to be as powerful as a mid-range desktop computer. 
I live in a comfy, but small 520 square foot "tiny house" and my desk folds out from the wall. Needless to say, there isn't much room on there.
To keep me from having to do all that "shopping" again, can you recommend a computer that has a really small footprint but plenty of computing power? If possible I'd like to keep it in the $400-$500 price range.
Rick's answer:  I'm familiar with the modern "tiny houses" that are on the market now Stanley, and I think they're pretty neat. But I can certainly understand how you need to make the maximum effective use of every square inch of living space.
Until recently most ultra-portable desktop PCs were indeed fairly anemic in terms of CPU power, RAM and mass storage, but luckily that's no longer the case.
I did some checking around for you and found what I believe to be the perfect computer for your tiny home that falls neatly within your budget.
This Beelink SER5 8-Core AMD Ryzen 7 5800H Mini PC  is about as small as they come, yet Beelink managed to pack plenty of computing power into its tiny case. Just check out these specs:
AMD Ryzen 7 5800H CPU
32GB 3200Mhz DDR4 RAM (expandable to 64GB)
M.2 2280 500GB NVMe SSD (expandable to 2TB)
AMD Radeon Graphics 8core 2000 MHz
2 HDMI Ports
WiFi 6 (802.11ax)
Gigabit Ethernet LAN (RJ-45 port)
Bluetooth 5.2
2 – USB 3.2 Gen 2 Ports
1 – USB 2.0 Port
1 – USB-C Port (data and video)
Windows 11 Pro
Physical size: 6.6 x 4.7 x 1.6 inches
1 Year Warranty
Pretty impressive, don't you agree? This mini PC is packed with more powerful hardware than many mid-level full-sized desktop computers.
Bottom line: I think this just might be the perfect "tiny computer" to compliment your "tiny house".
Click here to check out the Beelink SER5 8-Core AMD Ryzen 7 5800H Mini PC at Amazon.
Update from Stanley: Perfect! I just ordered it! Thanks for your help.
---