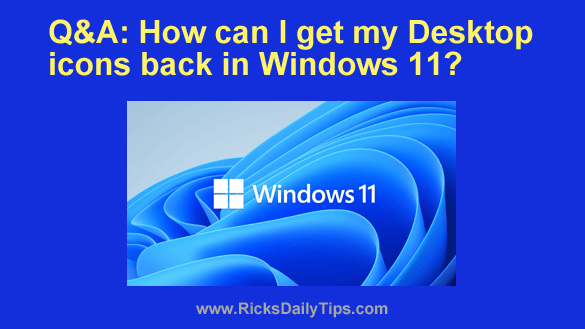 Question from Cole:  For a while now Windows Update has been prompting me to update from Windows 10 to Windows 11.
I finally got tired of seeing that message so I went ahead and let it install Windows 11.
But now that Windows 11 is on my computer all of my Desktop icons are gone. Can you tell me how to get them back? 
I use the "This PC" and "Recycle Bin" icons a lot and I'd really like to get them back if I can.
Rick's answer:  As you've discovered Cole, Microsoft made several changes to the look and feel of the Desktop when they released Windows 11.
One of those changes was to go with a "minimalist" look by removing the legacy Desktop icons.
Like you, I use " This PC" and the "Recycle Bin" fairly often as well and I can't imagine using a Windows PC without those icons on the Desktop.
Luckily, it's very easy to put them right back where they belong. Simply follow these steps:
1 – Right-click on the Start button, then click Settings.
2 – In the left-hand pane, click Personalization.
3 – In the right-hand pane, click scroll down and click Themes.
4 – Scroll down and click Desktop icon settings.
5 – Check the boxes beside Computer, Recycle Bin and any of the other icons you want displayed on the Desktop.
6 – Click Apply, then click OK.
That's all there is to it. You should now see the icons you selected displayed on the Desktop.
I hope this helps, Cole. Good luck!
Bonus tip: I'm sure you also noticed that the Taskbar is now centered at the bottom of the screen instead of over on the left-hand side.
You can move the Taskbar back to its traditional location by following the steps in this post.
---