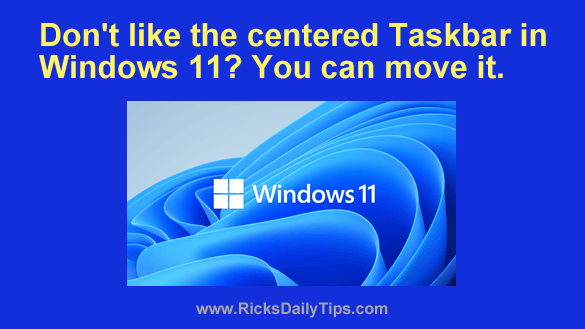 It's clear that for the most part Windows 11 is simply Windows 10 with a fresh new coat of paint.
While I actually like a few of the minor changes Microsoft has made with the new Windows 11 interface, there is one that I really dislike: the centered Taskbar and Start button.
Windows 95 was the first version of Windows that was an actual stand-alone operating system instead of just a simple GUI shell that sat atop the underlying MS-DOS, and ever since its release way back in 1995 the Taskbar has been located at the left-hand side of the bottom of the screen with the Start button sitting right square in the corner.
And that's where we long-time Windows users are used to finding them.
While there's nothing inherently wrong with having those all-important tools centered instead of over on the left, it just doesn't seem natural.
It's a bit like an American who moves to Great Britain and has to immediately start driving on the left-hand side of the road (or vice versa for British drivers who move to the States). Yeah, you'll eventually get used to it, but in the meantime it just feels really odd and uncomfortable.
Of course lots of folks love the new centered Taskbar as it makes the PC look and work a bit more like a Mac, but personally, I'm not a fan.
If you don't care for it either you can easily move the Taskbar and Start button back to their traditional locations. Just follow the steps below:
1 – Right-click on the Start button, then click Settings.
2 – In the left-hand pane, click Personalization.
3 – Also in the right-hand pane, click Taskbar followed by Taskbar behaviors.
4 – Change the "Taskbar alignment" setting to Left.
If you prefer visual instructions, the short video below shows how to move the Taskbar to the left, step-by-step.
Note: You can watch this video at full screen by clicking the little "square" icon in the lower-right corner of the video after it begins playing.
That's all there is to it. Your PC's Taskbar and Start button should now be right back where they've always been since the year 1995!
---