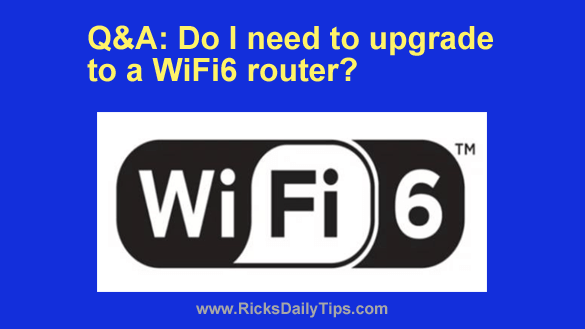 Question from Carrol:  The other day there was a man on the news talking about new routers that use something called WiFi6.
To be honest I didn't really understand what he was talking about because he was using a lot of technical terms that went right over my head.
The takeaway from that interview was that some people could benefit from upgrading to a WiFi6 router right away while others can wait a while.
The thing is I don't know whether I need to upgrade or not. What do I need to know in order to decide? I don't even know what WiFi 6 is and it's confusing to me.
Rick's answer:  Carrol, WiFi6 is the name they've given the latest version of the IEEE 802.11 WiFi networking protocol.
Way back in 1997 the first 802.11 WiFi protocol was released simply as 802.11 with no letter after it.
Then in 1999 that was followed up by 802.11a and 802.11b, each of which provided for faster data transfer speeds than the one that preceded it.
Several other generations of WiFi protocols were released in subsequent years.
By now most people have either an 802.11ac or an 802.11ad router, both of which were game-changers in the area of WiFi networking due to their vastly faster data transmissions speeds and other enhancements.
The latest generation WiFi protocol is 802.11ax, which is commonly referred to as WiFi6.
WiFi6 provides several major enhancements over earlier WiFi protocols, including support for maximum data transfer speeds in excess of 10Gbps. In regards to WiFi, that's a blazing speed that's a LOT faster than the 802.11ac protocol that it superseded.
Another big improvement provided by WiFi6 is its enhanced capability of supplying data to multiple devices at once.
In a nutshell, a WiFi6 router would allow you to use multiple devices on your WiFi network at the same time, each of which can communicate with the router at much faster speeds than were possible with earlier routers.
As you can see, WiFi6 is a vast improvement over all of its predecessors.
But all of the above being said, whether an immediate upgrade to WiFi6 would benefit you personally (as well as others in your household) depends on the following:
1 – How many devices are typically used at the same time in your house?
If you just have one or two computers and maybe three or four smartphones and tablets in your house then you can probably wait for a while before upgrading to a new WiFi6 router.
2 – Does your family do a lot of video streaming at higher resolutions?
Streaming video requires a fast WiFi connection, especially if multiple devices are streaming at the same time and they're streaming at 1080p or higher (a really fast WiFi connection is a must for reliable streaming at 4k resolution).
If your family doesn't do a lot of video streaming and/or they stream at something like 720p resolution then you can probably get by just fine for now with your current router.
3 – How fast are the download speeds you're getting with your current Internet plan?
If your plan provides anything less than Gig (1Gbps) download speeds then it probably wouldn't pay to spring for the upgrade right now regardless of how you answered the two questions above.
Your router cannot give your devices access to the Internet that exceed the total download speed your house is receiving, even with a WiFi6 router.
It all basically boils down to how you use your Internet connection and how many devices will connect to the router at the same time.
Now, here's one last thing to consider…
Depending on the service plan you have with your ISP you could well have a WiFi6 router already.
If your ISP is providing 1Gbps downloads to your house then chances are you already have a WiFi6 (i.e. 802.11ax) gateway. You can find out for sure by checking the details of your Internet service plan online or by calling your ISP's Customer Support number.
Alternatively, you could simply look up the model number of your gateway/router on the Internet. If it has the designation 802.11ax then you already have WiFi6.
I hope this helps, Carrol. Good luck!
Update from Carrol:  Thanks for the info, Rick. I checked and we're getting 200Mbps download speed from Charter. My son and I have one computer and one phone each and he's the only one that streams video (over Hulu).
We're pretty happy with the service we're getting so I won't be upgrading to WiFi 6 any time soon. I'm just glad to know that I don't need to.
Thanks again!
---