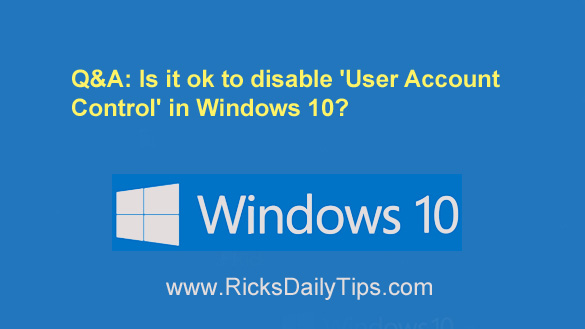 Question from Charles E.:  I updated my PC from Windows 7 to Windows 10 back in March 2016.
Ever since then I've been getting "User Account Control" warnings several times a month, and I ALWAYS get them when I'm trying to install something new or make a simple settings change.
I can't seem to do hardly anything at all with getting hit with a warning.
I know that UAC is meant to prevent me from doing something stupid and trashing my system, but I'm an experienced user and I know which types of things I need to avoid.
My question is do you think it would be safe to disable UAC? I really don't think I need it.
Rick's answer:  I certainly understand your frustration with Windows' User Account Control feature, Charles. I install a LOT of software for testing purposes and I get those UAC warnings all the time.
Personally, I choose to leave UAC turned on because it adds an extra layer of protection against human error (i.e. stupid mistakes by yours truly) and malware attacks.
I recommend that you do the same, but lower the notifications setting by one notch. That would still provide some protection while reducing the number of UAC notifications you'll receive.
You seem to know a lot about this so you probably already know how to make this change, but here are the steps just in case:
1 – Press the Windows+S key combination to open a "Search" box.
2- Type uac into the Search box, then select Change User Account Control settings from the list of search results. The "User Account Control" dialog should now be displayed on the screen.
3 – Click and hold the blue slider button and drag it to the next lowest (least strict) setting.
4 – Click OK, then click Yes in response to the resulting UAC warning (that will allow the change to take place).
That's all there is to lowering the UAC setting by one notch. I recommend that you give that a try for a while and see how it goes.
If you ultimately do decide to disable the UAC warnings altogether, I strongly recommend that you do the following two things:
1 – Install a good antivirus program such as Avast or AVG and keep it updated at all times.
2 – Create regular System Image Backups of your Windows 10 installation to make sure you'll always have a recent backup to restore from should things ever go wrong. This post explains how to create those backups.
Bottom line: The "User Account Control" feature in Windows helps keep our systems running smoothly and helps prevent us from making dangerous mistakes that can wreak havoc with our Windows installations.
I recommend that you keep it turned on, but you'll probably be just fine if you turn it off and make frequent System Image Backups.
Bonus tip: This post explains how to reset your Windows 10 installation to clear up glitches and irritating system issues.
---
Never miss a tip!  Click here to sign up for my free Daily Tech Tips Email Newsletter!