Question from Carol N.:  Back when the government started banning incandescent bulbs I bought up a bunch of them in various wattages and stored them in my basement.
I figured I'd have enough bulbs to last for a long, long time. Well, it turns out that I was wrong.
Long story short, most of my precious stash of incandescent bulbs ended up getting broken so I'm having to switch to the newer bulbs a lot sooner than I had planned to.
Since I absolutely detest CFL bulbs, what do I need to be concerned about when I go shopping for LED light bulbs. They're a little expensive as light bulbs go so I don't want to waste a lot of money buying the wrong ones.
Rick's answer:  Carol, there are several things to consider while shopping for LED bulbs
(#ad) and I'll be the first to admit that it can be a little confusing.
First of all, forget about wattage when shopping for LED bulbs. Unlike their incandescent cousins, the wattage consumed by LED bulbs doesn't automatically correlate to the amount of light the bulbs will emit.
What you actually need to compare is the "Lumens" ratings for the bulbs that you are looking at. It's really pretty simple: The greater the number of lumens, the brighter the bulb will be.
While it's true that most LED bulbs will also have a "wattage" comparison for the bulb (i.e. equivalent to a 75w incandescent) to give you a rough idea of how the bulb's brightness will compare to an incandescent bulb, I've found the Lumens rating to be more useful.
Next, you'll need to watch out for the color of light that a given bulb will emit. While the typical incandescent bulb emits a soft, yellowish light, the light emitted from various LED light bulbs covers a wide range of the visual light spectrum.
If you like that old familiar soft, warm light emitted by incandescent bulbs, make sure you purchase LED bulbs that say they produce either "Soft" or "Warm" light.
If you'll be using the bulbs in an area that requires the brightest light (a garage, basement or attic for instance), look for bulbs with the "Daylight" description.
The color of light that a bulb will produce is determined by it Kelvin (K) rating.
Personally, I find that bulbs that fall within the 2700K to 3000K range produce light that is most like the light from an incandescent bulb.
Refer to the items I have circled in red on the sample package below to get a feeling for what you need to be looking for: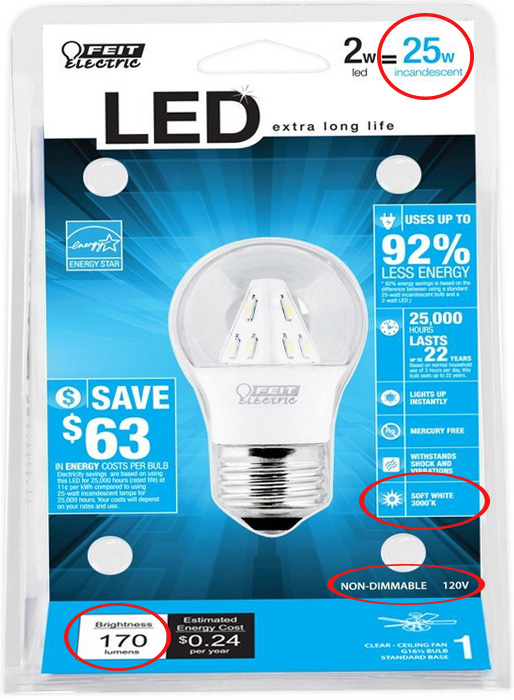 Another thing to take into consideration is whether or not you want to be able to dim your lights. Most LED light bulbs are incompatible with the old-style incandescent dimmer switches that are currently installed in most existing homes.
If you want to have dimmable LED lights, you'll need two things in place:
1 – An LED compatible dimmer switch controlling the light fixture
2 – LED light bulbs that were designed to be dimmable
In a nutshell, this means if you are using either a standard on/off light switch or one of the old-style dimmer switches, you'll need to replace the existing switch with a modern dimmer switch that's designed to work with dimmable LED bulbs. And of course you'll also need to purchase dimmable LED bulbs!
And finally, if you plan to install one or more LED bulbs in an enclosed light fixture or globe or mounted on a ceiling fan you'll need to purchase bulbs that were designed to be used in those ways or the bulb will likely fail prematurely.
You'll find the "Enclosed" or "Ceiling Fan" designations on the box if the bulbs were designed for either of those purposes.
Well, that's pretty much all there is to shopping for LED light bulbs.
You can buy LED bulbs at your local retail store, but you can also purchase them at Amazon
(#ad) if you enjoy the convenience of shopping from home.
And now one final recommendation: Don't pay extra for name-brand bulbs. The results from several independent tests indicate that generic "store brand" LED bulbs are just as reliable as the name brands.
I hope this helps Carol. Good luck!
Bonus tip: Want to make sure you never miss one of my tips? Click here to join my Rick's Tech Tips Facebook Group!
If Facebook isn't your cup of tea, I invite you to sign up for my Rick's Daily Tips Daily Update Newsletter.
---
Want to ask Rick a tech question? Click here and send it in!
If you found this post useful, would you mind helping me out by sharing it? Just click one of the handy social media sharing buttons below.