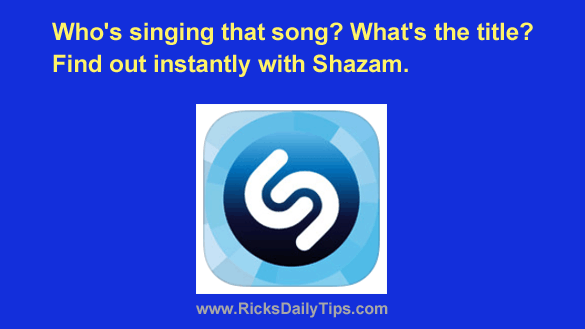 If you enjoy listening to the radio, chances are you occasionally hear a song and wonder who's singing it or what its title is.
Well, now you can stop wondering thanks to a nifty free smartphone app called Shazam.
Shazam will tell you instantly who's singing the song that's currently playing and what its official title is.
Pretty cool, right?
If you like a song you can tap a button to buy it instantly from iTunes.
If you use social media you can even share the song that's playing on Facebook and Twitter right from the app.
Sound like a winner! Then download it right now and give it a try!
The Shazam app is available for Apple devices from iTunes and for Androids from the Google Play Store.
---
Never miss a tip!  Click here to sign up for my free Daily Tech Tips Email Newsletter!