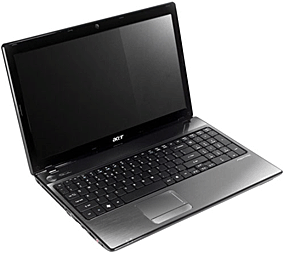 Question from Todd B.:  Rick, I turned my laptop on yesterday morning and it suddenly shut off in the middle of the boot process. I turned it back on and it started to load Windows again, but then it displayed the message "Setup is starting services" and just sat there.
I finally gave up waiting for it to resume and turned it off, but now every time I turn it on it gets stuck at the same message.
I hope you can tell me how can I fix this? It's an Acer Aspire 5251 running Windows 7. Thanks in advance for your help.
Rick's answer:  Todd, your Windows installation has become corrupted, and judging from past experience I'm afraid you're going to have to reinstall the operating system. Hopefully you have either a good backup that you can restore from or you created a set of Recovery discs at some point. If not, you should be able to reinstall Windows 7 from the eRecovery partition. Here's how:
1 – With the laptop powered down, press the Power switch.
2 – When you see the white "ACER BIOS" screen, press and hold the Alt key and then press the F10 key to launch the Acer eRecovery utility.
3 – Click Restore to Factory Default Settings.
4 – Click OK.
The recovery process should now begin. When it's finished your Windows 7 installation should be good as new. I hope this works for you without a hitch Todd. If not, let me know and we'll discuss your options.
Update from Todd: Thanks Rick. I didn't have a backup but I was able to reinstall from the recovery partition and now everything is back to normal. I really appreciate your help!
---
Do you have a tech question of your own for Rick? Click here and send it in!