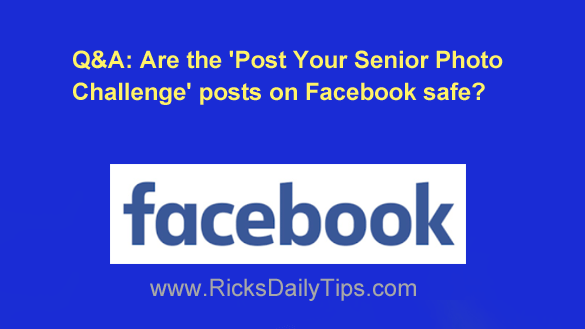 Like my tips?  Click here to sign up for my free Daily Tech Tips Newsletter and you'll never miss one!
---
Question from Yvonne:  I've started seeing those posts asking people to post their senior year photos again.
I know there's a lot of scams and hoaxes on Facebook. Is this one of them?
I guess what I'm really asking is if it's safe to participate in this? I really like the idea but only if it's safe.
Rick's answer:  You're wise to be cautious about posts asking you to share and post things on Facebook, Yvonne.
There really are a LOT of scams and hoaxes making the rounds on social media on a daily basis.
However, this isn't one of them.
Here are a few reasons why the recurring "Post Your Senior Year Photo Challenge" posts are aren't scams or hoaxes:
1 – You aren't clicking any links or visiting any websites so there's no chance of downloading a virus to your device or causing your friends to download one to theirs.
2 – You aren't installing an app so you don't have to worry about a malicious app causing problems with your Facebook account.
3 – You aren't sharing any personal information that could be used to steal your identity or hack into any of your online accounts.
In short, there's nothing about these Senior Year Photo posts that's inherently dangerous.
Just be aware that if you choose to participate anyone on the Internet could potentially see the photo you post, copy it and share it with others.
Bottom line: As long as you don't mind strangers potentially seeing your photo and using it as they wish, it's completely safe to participate in the "Post Your Senior Photo Challenge" on Facebook since there's no scam or hoax of any kind involved with it.
Bonus tip: Click here to read about several real scams and hoaxes that are making the rounds right now.
---
If you found this post useful, would you mind helping me out by sharing it?
Just click one of the handy social media sharing buttons below. Thanks a bunch!