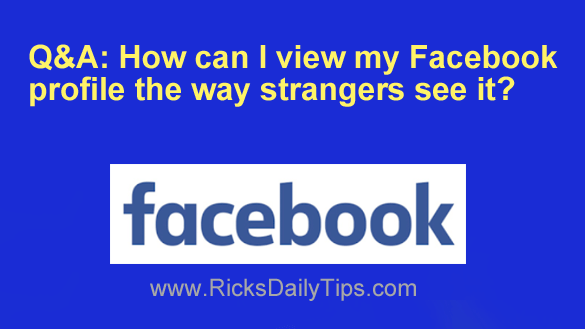 Question from Nancy:  How can I look at my Facebook profile the way strangers see it?
(By strangers I mean people who aren't on my friends list.)
That way I'll know what I need  to change to prevent strangers from seeing things on my account that I don't want them to see.
There are so many settings and it's all so confusing! 
Rick's answer: That's a great question Nancy. With all the privacy settings that Facebook offers it's hard to predict just how your profile will look to others. Fortunately, Facebook has made it very easy to find out.
Follow the steps below that match the device you're using to view your Facebook profile exactly as it appears to the public (i.e. people who aren't on your friends list).
1 – Log into your Facebook account and visit your Timeline page.
2 – Click (0r tap) the three dots that are located on the far-right side of the horizontal menu bar that's just below your Cover photo.
3 – Click (0r tap) View As.
That's it! You should now be viewing your Timeline page exactly as the public (i.e. someone who isn't on your friends list) should see it.
From here you can optionally click the About link to see how others view your "About" page. You can also click on Photos to check those out as well.
Now that you know how to view your Facebook profile the way others see it you can easily verify your privacy settings and adjust them as needed.
To return to normal view simply click either Exit view as or Exit View (whichever of those you see on your screen).
---