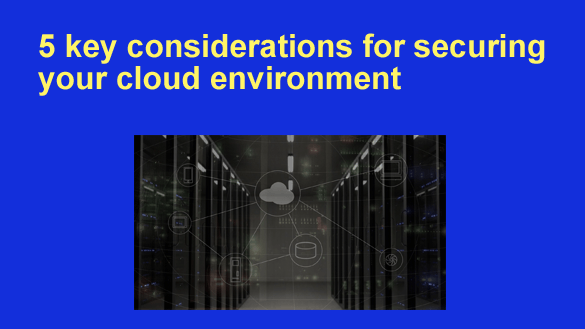 Businesses are increasingly using cloud computing to store and manage their data, but security concerns have grown as it becomes more popular. Almost all businesses run numerous critical business apps on public cloud services.
As a result, attacks and breaches on cloud services are rising, making cloud security one of the top concerns for IT professionals.
Why are cloud security concerns still prevalent among businesses? How can you ensure the security of your cloud? I've listed five critical components for effective cloud security operations below. 


What is Cloud Computing?
Cloud computing technology allows people to access various computer resources via the Internet. Cloud service providers run sizable data centers that house hundreds of computers, storage systems, and other essential components for various businesses. Users connect to these data centers to gather or use data as needed.
The good thing about cloud computing platforms is that you only pay for the services you use; there are no additional costs. A few applications for cloud computing include streaming video, machine learning, data analysis, storage, and backup. Additionally, the cloud may be useful for developing and testing software, automating software distribution, and hosting blogs.


Risks to Cloud Computing Security
The following are some of the main security concerns with cloud computing:
• Cyberattacks
Since cybercrime is a business, cybercriminals choose their targets based on how lucrative their attacks will be. Cloud-based infrastructure is simple to access through the open Internet, typically has lax security, and stores sensitive and significant data. The fact that so many businesses use the cloud also makes it possible to launch numerous successful attacks with a high success rate.
• Unapproved Entry
Unlike on-premises hardware, cloud-based installations are immediately reachable via the public Internet and are situated outside the network perimeter. Even though this benefits employee and customer access to this infrastructure, it is simpler for attackers to gain unauthorized access to an organization's cloud-based resources. An attacker might be able to gain direct access through improperly configured security or compromised credentials, possibly without the company's knowledge.
• Reduced Visibility
Most businesses will extensively use cloud services across various platforms, regions, and countries. With the right rules, tracking who is utilizing your cloud services is easier. This includes the data that users access, upload, and download. You cannot defend something that you cannot see.
What Purposes Does the Cloud Serve?
Imagine you have a great idea for a new application that would offer a wonderful user experience and be very successful. If you want users to be able to access the program, find it, and spread the word about its benefits, you must publish it online. You would also need a lot of money for your software to function properly.
If the software is a failure, you will also lose your money. On the other hand, if the software is very well received, you will need to invest more money in additional servers and storage to handle the increased demand. In this case, cloud computing may be useful. Scalability and secure storage are just a couple of its many advantages.


Consideration for an Effective Cloud Security Strategy
The top five components of an effective cloud security strategy are as follows:
1 – Observation and Audit of the Cloud Environment
Monitoring and auditing are crucial components for spotting security breaches and taking the necessary action. This can assist in identifying potential security holes and taking prompt action to reduce them. There are many methods for monitoring and reviewing the security risks in your cloud environment, including:
• Using security tools that let you monitor network traffic, spot security issues, take action, and create security-related activity reports.
• Performing security audits regularly, such as penetration testing and vulnerability scanning, to find and fix any vulnerabilities in your cloud environment.
• Keep an eye on cloud users' activity, especially privileged users and third-party suppliers, to spot any suspicious or unusual behavior.
2 – Access Control Implementation
Access controls are a group of security precautions used to control who has access to designated resources or information. By implementing access controls, organizations can ensure that only authorized individuals have access to vital data and systems.
Role-based access controls (RBAC) control who has access to what system resources by assigning users to specific roles. This can lessen the risk of unauthorized access while assisting businesses in managing data and application access more efficiently.
Access restrictions can also be used with multi-factor authentication as an additional security measure (MFA). MFA mandates that users provide two or more forms of identification to access resources, such as a password and a security token or a password and a fingerprint.
3 – Company's Knowledge About Cloud Security
It's essential to keep your business informed about cloud security. Any person could be a security risk, and if they aren't properly trained to use your cloud system, they could pose a serious internal risk. Your company must train employees on how to operate your cloud deployment, and you must give your IT staff specialized training on the security precautions your company takes to manage access and protect data.
4 – Updates for Configuration and Software
For the cloud to be secure, it is crucial to update settings and software. Update software and settings to ensure known vulnerabilities are patched and the cloud environment uses the most recent security precautions. A cloud environment's operating system, applications, and security software settings and version numbers must also be monitored by businesses. Potential vulnerabilities could be identified and fixed with the help of this information.
5 – Policy for Data Encryption
Data encryption is a vital component of securing a cloud environment. By encrypting it, organizations can ensure that only authorized individuals can access and read sensitive data, such as personal information, financial records, and confidential business information. Cloud environments use a variety of encryption methods. Here are some examples:
• File-level encryption
• Transport Layer Security (TLS) or Secure Sockets Layer (SSL) encryption.
• Database encryption.
Numerous Advantages of Cloud Computing
Some of the main advantages of cloud solutions are that they help you with the following:
• Utilize Scale Economies
You might achieve a lower variable cost with a cloud solution than you could. Because utilization, infrastructure, and labor costs in the cloud are amortized over thousands of customers, service providers may benefit from better economies of scale, translating into lower pay-as-you-go prices for customers.
• Prepare Your Company for the Future
The fundamental tenet of the cloud is connecting processes to data, enabling enhanced capabilities, and extending the lifespan and value of solutions. This will support your company's growth in a constantly changing market.
• Change With The World
Your infrastructure must be able to adapt for it to remain competitive in today's rapidly changing business environment. This flexibility is increasingly important to meet changing customer demands and technological advancements.
Final Thoughts
Securing your cloud infrastructure is necessary to defend your company against cyberattacks. You can protect your important data and resources by considering the above-mentioned factors. Maintaining the security of your cloud environment requires being aware of current security issues and best practices.
---