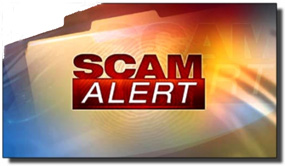 Well, it's that time of year again. Lots of folks have gotten into the Christmas spirit and started looking for great deals on gift items.
Unfortunately, the scammers of the world are also getting into the Christmas spirit, and they're hoping to take advantage of yours by scamming you out of a few bucks (or in this case some merchandise).
Unfortunately, the insidious "Secret Sisters Gift Exchange" scam is once again making the rounds on Facebook. 
The premise of the scam is both simple and extremely tempting: Simply choose a "secret sister" (from the names on a list that you'll receive later) and send her a gift worth at least $10. In return you'll receive anywhere from 6 to 36 gifts of your own.
Here is a screenshot of the actual text of the scam: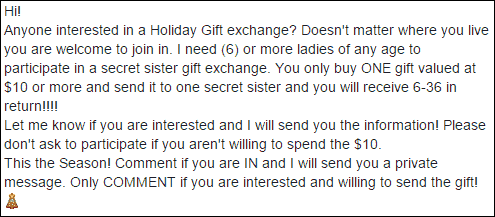 If you really think about it, it's easy to see why this is a scam. Just as with a Ponzi scheme, there is no way that you can purchase a gift for $10 and receive multiple gifts of the same value in return. The chain of "exchanges" promised in the scam is simply unsustainable.
The big difference between this scam and a typical Ponzi scheme is that a relative few of the participants actually come out ahead in a Ponzi scheme. Some of the first people to take part actually receive their money back plus some in order to build confidence in the scheme among the public. It's the numerous victims who come along later that end up the big losers.
Unfortunately, virtually everyone loses in the Secret Sisters scam. Those who fall for the scam will end up sending a scammer a $10 gift but never receive anything in return. The only winners are the scammers themselves.
Bottom line: The old saying is still true: If something sounds too good to be true, it usually is. And on Facebook you can safely leave out the word usually. Don't fall for the Secret Sisters Gift Exchange scam.
Bonus tip #1: Click here to read about several other scams that are making the rounds right now.
Bonus tip #2: Want to make sure you never miss one of my tips? Click here to join my Rick's Tech Tips Facebook Group!
If Facebook isn't your cup of tea, I invite you to sign up for my Rick's Daily Tips Daily Update Newsletter.
---
Want to ask Rick a tech question? Click here and send it in!
If you found this post useful, would you mind helping me out by sharing it? Just click one of the handy social media sharing buttons below.