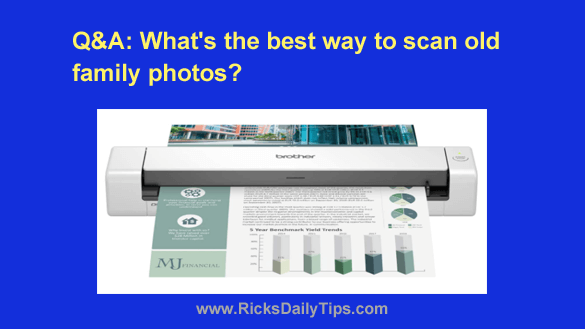 Note: The links in this post are affiliate links.
Question from Mary:  Hi, Rick. I need some advice on the best way to scan pictures.
I learned yesterday that I may have an opportunity to access some old family photographs that are about 60 – 100 years old.
I'd like to scan all of those pictures so they'll be available digitally.
Do you have any recommendations on the equipment I'll need to scan them?
They are located in an old home that only has two-pronged electrical outlets, and very are few of them available.
The equipment that I have right now is a MacBook Air, an iPhone and an iPad.
Unfortunately, I have no idea of the condition of the photos.
Any information you can give me about the best way to go about scanning these old pictures will be appreciated.
Thank you very much for your kind assistance.
Rick's answer: I think it's wonderful that you're going to have the opportunity to scan all those precious family photos, Mary. I'll be glad to help you in any way that I can.
The actual scanning process will be pretty simple. All you have to do is pass each photo through the scanner and allow it to work its magic.
Ordinarily I would recommend a flat-bed scanner (the kind they put on multi-function printers), but in your case I believe a portable sheet-fed scanner would be the better choice due to its ease of use in a setting like the old home you described.
I did a little checking around and found a fantastic Brother DS-740D Duplex Compact Mobile Scanner scanner that will plug right in to your MacBook Air.
To make things simple you won't have to worry about finding an available electrical outlet because this particular scanner will draws its power right from your laptop!
Scanning the photos with this scanner will be very easy. Here's how it works:
1 – Plug the scanner into your MacBook Air and install the software for it.
2 – Insert the photo into the edge of the scanner and press the Scan button. The scanner will automatically feed the photo through the scanner and copy its digital image onto the laptop's screen.
3 – Select the folder you want to save the scanned image to and the click Save.
4 – Repeat the above steps for each of the other photos.
That's really all there is to it. Pretty simple, right?
Click here to read more about the Brother DS-740D Duplex Compact Mobile Scanner at Amazon.
It really is an awesome scanner and I believe it'll be just perfect for scanning all of those wonderful old family photos onto your laptop.
---