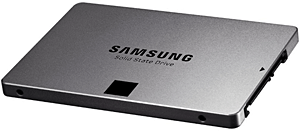 These days replacing your computer's hard drive with a super-fast solid state drive (SSD) gives you more bang for the buck than just about any upgrade you can make.
Most people will tell you that once you've owned a PC that boots from an SSD, you'll never want to be without one again!
I recently received a Samsung 840 EVO-Series 120GB 2.5-Inch SATA III SSD for review, and I decided to install it in my Gateway desktop PC. In this review I'll give you my opinion of the drive. 
The 840 series are 2.5 inch drives so I had to use a 3.5″ drive adapter bracket since the Gateway only has 3.5″ drive bays. The SSD fit into the computer's drive cage perfectly with the adapter, and after connecting the power and SATA cables I was all set to begin the software installation.
First, I set the SSD to work in AHCI mode and the DVD drive as the primary boot drive in the BIOS, then booted the computer from the Gateway Recovery DVD's that I had on hand. Since I had been planning to do a clean re-installation of Windows 7 on this PC anyway, I temporarily left the hard drive unplugged and followed the prompts to install Windows 7 on the SSD.
Everything went as planned with nary a hitch. In no time at all I had Windows booting directly from the SSD. After installing a ton of Windows Updates and some of my most-used programs to the SSD, I reconnected the hard drive as a secondary data drive. I really like this setup because it gives me super fast boot-up and program start-up times from the SSD while providing plenty of storage space for my data files on the hard drive.
The speed increase courtesy of the Samsung 840 SSD is simply amazing. This Gateway takes almost 2 minutes to boot to a usable Desktop from the hard drive, but with the SSD it boots in 33 seconds with essentially the same software configuration. Even better, while I used to be able to go grab a quick snack while PhotoShop Elements loaded, now that bloated resource hog loads in a flash!
Overall, I think the Samsung 840 is both an outstanding solid state drive and a great value at well less than $100. It's easy to install, runs as quiet as a mouse, is cool to the touch, and it puts a very capable, but older PC in the proverbial fast lane. I highly recommend this drive if you're looking for an inexpensive way to really speed up your computer.
Click here to read more about the Samsung 840 EVO-Series 120GB 2.5-Inch SATA III Solid State Drive on Amazon, including literally thousands of positive user reviews.
Note: The links in this post are affiliate links.