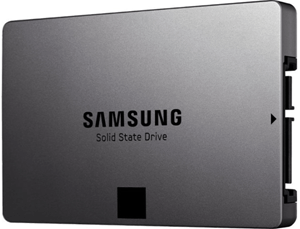 I've written several posts in the past explaining how replacing your PC's hard drive with a solid state drive (SSD) is the best upgrade you can make for the money, and that's still the case today.
The only real drawback to upgrading to an SSD has always been the real possibility of sacrificing valuable storage space in exchange for an SSD's blazing speed.
The good news however is the capacities of solid state drives are steadily increasing even as their prices continue to drop.
Nowadays you can buy a super-fast SSD with plenty of storage without having to pay a small fortune. A great example is the Samsung 840 EVO 1TB 2.5-Inch SATA III SSD. 
The 840 EVO offers a full Terabyte of storage space along with SATA III data transfer speeds at a price that is quite reasonable. This drive comes in the industry standard 2.5 inch form factor, making it perfect for laptops and desktop PCs alike (an inexpensive 2.5″ to 3.5″ adapter bracket is required for use in many desktops).
This lightning fast drive boasts sequential read and write speeds of 540 Mbps and 520 Mbps respectively. AES 256-bit full-disk encryption is also included at no additional charge.
Bottom line: If you're looking to speed up your PC as much as possible without breaking the bank or sacrificing a ton of storage space, this 1TB SSD from Samsung is worth a serious look.
Click here to read more about the Samsung 840 EVO 1TB 2.5-Inch SATA III SSD on Amazon, including almost 5,000 positive user reviews.
Note: The links in this post are affiliate links.