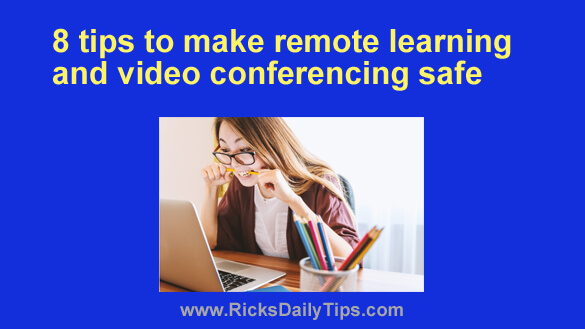 Most educators can't imagine their daily lives without video conferencing. It's useful for everything from online lectures to sprint meetings for the whole team.
Because of its design, it can reach more students without requiring them to be physically present in classrooms. However, keeping outsiders out of video conferencing is just as crucial. 
Hackers can potentially access your video conference and cause disruption or leak sensitive information as video and audio data are exchanged during webinars and lectures using public internet networks.
Because of this, you should take measures to stop any unauthorized individual from joining in. In addition, institutions should excel in providing a positive learning environment to earn a high net score from their students.
Video conferencing security entails hosting lectures and calls in a way that leaves hackers with as few entry points as possible. An expert in cybersecurity and a top paper writer from a trusted writing service, which students use to find essay writer for hire or get help with homework, recommends doing the following to enhance cyber security.
1 – Use a trusted virtual private network
Most schools' local network is secured with encryption technology, guaranteeing the privacy of all communications.
However, all virtual private network (VPN) services are not the same. For some, encryption occurs solely during data transit and does not affect application data. Other apps gather information for the sole purpose of selling it. Therefore, it is essential to select a trustworthy VPN provider carefully.
2 – Verify open windows and tabs before sharing
During Zoom calls, educators and students frequently collaborate by sharing screens. Unfortunately, this seemingly innocuous behavior can compromise your online security. Furthermore, many students wouldn't want their instructor to find out that they opted to have an essay writer online by DoMyEssay complete their paper instead of writing it themselves.
Close all private tabs prior to sharing your screen so that others can't put together your identity from the information they see. Furthermore, you can never be too careful with the information you share online.
Sharing only a selected window, rather than the entire screen, is an option with several video conferencing systems. Using this function, you can restrict what content others can access on your device.
3 – Protect your privacy by not including any identifying information in your username
To protect your privacy online, you shouldn't use your real name or other identifying information in a username. You should not use a username that reveals too much about your age, location, last name, or additional personal information.
You should understand the importance of not giving out any personal information when conversing online, even if whoever you talk to seems trustworthy.
4 – Avoid recording the screen without prior notice
It's not uncommon for the instructor or the students to wish to record a class for their own use later. But what exactly about capturing one's screen poses a security risk, and why?
For one thing, some people prefer to remain anonymous during phone calls. Also, some individuals may wish to hide any identifiable details in the backdrop. Lastly, it's just good manners to give people advance notice before recording them.
5 – Install an anti-malware program
Computer viruses are easily avoided, located, and removed using antivirus software. The primary function of antivirus is malware protection, although it may also have a firewall and website-blocking capabilities.
Your school or district might preinstall necessary software on your school-issued laptop or insist you purchase a particular model. If not, then please do so. Schedule scans and software updates to take place automatically.
6 – Educate on the importance of cybersecurity
After opting for writing services by EssayHub and enlisting a professional essay writer to help you with homework, talk to your parents and teach them the necessity of implementing or updating the home network's cybersecurity protocols.
For example, a firewall can operate as a first line of defense by preventing the entry of threats. On the other hand, an antivirus program can act as a second line of defense by recognizing and eliminating known malware.
To prevent cybercriminals from exploiting known security flaws, it is also crucial to keep all apps and browsers up-to-date and set to auto-update.
It may also be helpful to persuade your parents to replace their home routers with newer models equipped with heightened cybersecurity measures.
7 – Regularly update software
Similarly, educational institutions are responsible for routinely advising students who hire essay writers and other stakeholders on updating their apps, operating systems, and web browsers.
The same is valid for administration in schools. To avoid being compromised by threats such as malware and viruses, users must regularly update their apps, OSs, and other networked devices.
This patches security gaps that hackers could exploit to obtain access to private information stored on computers, mobile devices, and other electronic gadgets.
8 – Check out the terms and conditions
Before you join any service, whether it be an app, social media account, or website, please read the terms and conditions.
Some of these tools can ensnare victims by stealing their personal information and then using it for malicious means or selling it to third parties. Others can scan a person's face or browser history.
Don't blindly sign up for an app with access to private information that could put you at risk in the future.
Final Thoughts
Preventing unnecessary dangers to your device and data is as easy as examining the source thoroughly before downloading any file or software.
Data security is just as important as cybersecurity. Therefore, it is also crucial to back up any essential data stores or files regularly.
---