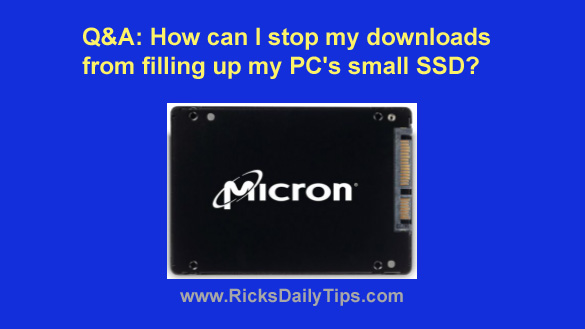 Question from Micah H:  I read your post about how replacing the hard drive with an SSD will make a computer run a lot faster.
That really sounded good so I installed a Micron 60GB SSD (I got it at a GREAT price!) in my HP desktop PC.
I installed Windows 10 on the SSD and put most of my programs on the hard drive (which I had left in there for extra storage).
The SSD did speed the computer up quite a bit but I'm having a problem with it running out of storage space.
I made the mistake of installing Chrome on the SSD and the downloaded files in my "Downloads" folder keep filling up the drive.
I go in there every now and then and clean out the downloads folder, but I'd like to stop having to do that.
I use Chrome a lot (every day, all day) and I like having it on the SSD but I'll gladly move it to the hard drive to stop the SSD from filling up if you can tell me how to move it.
Or is there some other (i.e. easier) way to fix this problem?
Rick's answer: I understand your desire to have Chrome on the SSD, Micah. I use my web browsers a lot too and I have all of them on my SSD so they'll start up faster.
Luckily, you won't need to move Chrome from the SSD to the hard drive in order to prevent your SSD from filling up with downloaded files.
All you need to do is move your "Downloads" folder to the hard drive instead. Here's how:
1 – Create a new folder on your PC's hard drive and name it Downloads.
2 – Open your Chrome browser.
3 – Click the Customize and Control icon in the top-right corner of the window (it looks like three dots stacked atop one another).
4 – Click Settings.
5 – Scroll to the bottom of the page and click Advanced.
6 – Click the Downloads link.
7 – Click the Change button that's located in the "Downloads" box over on the right.
8 – Navigate to the "Downloads" folder you created on the hard drive and then click Select Folder.
That's all there is to it. From now on all of your downloads should land in the new "Downloads" folder that you created on the hard drive.
I hope this helps, Micah. Good luck!
Update from Micah:  Thanks Rick. That helped a lot!
---
Never miss a tip!  Click here to sign up for my free Daily Tech Tips Email Newsletter!