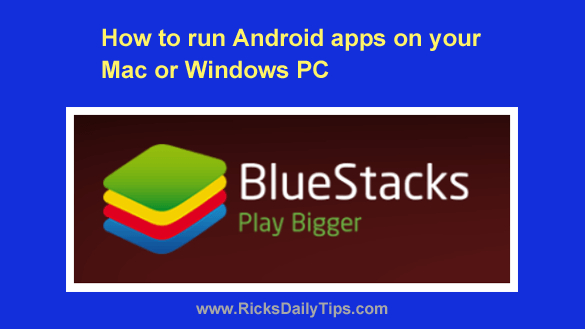 Click here to sign up for my free Rick's Tech Tips Newsletter!
---
Do you have some favorite apps and games on your Android device that you'd love to run at full screen on your laptop or desktop computer?
Well, thanks to a fantastic Android emulator called BlueStacks, you can!
BlueStacks will allow you to run thousands of popular Android apps and games right on your Mac or Windows PC.
I tried it out on my Windows 10 desktop computer and the apps I used worked smoothly and flawlessly.
That being said, the results you'll enjoy will depend on how recent your computer is and how much RAM it has installed.
BlueStacks is an emulator after all, so by its very nature it's going to consume a fair amount of resources. That means your user experience will vary depending on how powerful your computer is.
I found it to be extremely responsive on my HP laptop with an Intel core i3 CPU and 8GB of RAM.
Here's a short video that shows how to install BlueStacks on your computer:
Pretty cool, right?
If running Android apps on your computer interests you, I recommend that you visit the BlueStacks website and read up on it there. Be sure to click the Support link and read some of the Frequently Asked Questions (FAQs). You'll find lots of useful info in there.
If you like what you see, simply click the blue Download BlueStacks button to download the software and install it on your computer. You'll be asked to select either the free version or one of the premium versions. (I used the free version for my testing.)
The first time you run BlueStacks you'll be asked to log into your Google account so you can access the Google Play Store and download your apps. After you log in you'll find that BlueStacks works somewhat similar to the way it works on your Android devices.
Bottom line: Now you can enjoy your favorite Android apps and games right on your laptop or desktop computer, at full screen! Both Windows and MacOS are supported so you won't have to buy a new computer.
---
Cick here to ask me a tech question.