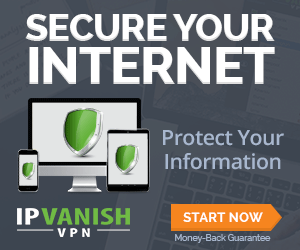 Note: The links in this post are affiliate links.
Do you ever worry about your privacy when you're online?
Are you concerned that a hacker might intercept your login information and use it to sign into your bank account and steal your hard-earned savings?
And perhaps even worse, are you afraid someone might steal your personal information and use it to assume your identity and take out loans and do other nefarious things in your name?
Unfortunately, in today's world thieves are constantly on the lookout for unprotected data they can intercept in order to steal your money, assume your identity or even sell your personal and financial info on the black web.
And the danger is increased exponentially if you ever use an encrypted WiFi network like the ones available at fast food joints, some hotels and many other types of businesses.
In short, unencrypted data that's transmitted "in the clear" over the Internet is an open invitation for hackers to ruin your personal and financial life.
And while it's usually more irritating than dangerous, companies are constantly recording your IP address and tracking your online activities and using that information to bombard you with ads and "offers" that literally follow you around the Internet from website to website.
Well, truth be told, these are all very legitimate concerns. In fact, these things happen to numerous people each and every day!
And I'm willing to bet that you're always noticing those creepy ads that follow you around the web like digital stalkers.
Luckily, there's a very simple solution to all of these problems: Use a VPN!
VPN stands for Virtual Private Network, and it's the single best tool you have at your disposal for protecting your online privacy, your identity, and the security of your online accounts.
In a nutshell, a VPN will create a secure "tunnel" connection between your device's web browsers and Internet-capable apps by encrypting the data that's sent to and from your devices over the web.
And just as important, it will hide your IP address by effectively replacing it with the IP address of a distant VPN server, making it virtually impossible for the digital "stalkers" of the world to follow you around the web as you move from site to site.
I've used lots of VPN's over the years. And as you might expect, some are better than others.
I used to use free VPNs (there are several to choose from) but I eventually became frustrated with their ridiculously low monthly data caps and ineffectiveness at protecting my data.
A while back I began trying out several paid VPNs and the one I consider to be the best of the lot is IP Vanish.
Long story short, I now use IP Vanish on a daily basis, and I've been well pleased with it from day one.
Here's a quick rundown of what an IP Vanish VPN can do for you:
1 – An IP Vanish VPN will make your web browsing and other Internet activities truly anonymous.
As I mentioned above, it will hide your IP address by replacing it with the IP address of a distant IP Vanish VPN server.
And since they keep no logs containing info about your activities, there's no Internet usage data of any kind for a hacker (or anyone else) to steal and exploit.
2 – Every byte of data that's transmitted to and from your device over the Internet will be protected from prying eyes with super-strong 256-bit AES encryption.
That means you won't have to worry about your usernames, passwords, bank account information, emails, instant messages and other sensitive information falling into the wrong hands.
3 – Your encrypted data will be transmitted over the Internet through a secure Virtual Private Network "tunnel".
That will allow you to use any public Wi-Fi network to access the Internet without having to worry about your information being intercepted at some point along the way.
4 – You'll be able to use the Internet securely on every device you have, up to a total of 10 devices.
Simply install the IP Vanish app on each of your computers and mobile devices, then use the device(s) that are most handy at the time.
You'll be allotted 10 simultaneous secure VPN tunnels that you can use on any devices at any time without having to remove the app from one device so you can use it on another one.
As you can see, an IP Vanish VPN will completely protect every scrap of your personal and financial information from prying eyes.
Of course you'll still need to use strong passwords to prevent hackers from guessing them, but you won't have to worry about them stealing them once you start using an IP Vanish VPN!
Bottom line: The hackers, scammers and digital stalkers of the world are constantly on the prowl for usernames, passwords, bank account numbers and any other info they can intercept and exploit in order to steal your money and your identity.
And as you now know, companies both large and small are constantly following your digital tracks around the Internet so they can display creepy (and sometimes fraudulent) ads for the things you recently viewed on your favorite shopping websites.
But you can put an instant stop to all of that and protect your valuable information from those who would misuse it by simply using an IP Vanish VPN!
Click here to read more about IP Vanish at their website.
---
Never miss a tip!  Click here to sign up for my free Daily Tech Tips Email Newsletter!