Note: The links in this post are affiliate links.
As you probably know, every new generation of laptops seems to be thinner than the one before it.
While being thin is good with laptops, it also results in a few downsides.
One of the most important of those downsides is the lack of ports available for plugging external devices into the machine.
Luckily there's a simple solution to this lack of available ports…
Just plug a USB-C hub or docking station into one of the device's USB-C ports and you'll have plenty of ports for adding an external mouse, a USB hard drive, memory cards, etc.
What's more, the better models even allow you to connect an extra monitor or two to your laptop.
I've tested and reviewed a number of popular hubs and docking stations over the years, and one of my all-times favorites is the one I had a chance to check out a short while back.
It's made by a company called Hiearcool, and it has most everything you could possibly need in a docking station.
The Hiearcool USB-C Hub / Laptop Docking Station plugs into your laptop's USB-C port. It's small enough to be practical, but it still offers all of the following:
Two 4K-HDMI Ports
One VGA Port
One USB-C PD (Power Delivery) Port
One Gigabit RJ45 Wired Ethernet Port
One SD/TF Memory Card Slot
Two USB 3.0 Ports
Two USB 2.0 Ports
Provides up to 100 Watts of total charging power when used with a USB Type-C wall adapter
Here's a photo that shows all the connections you can make to the device: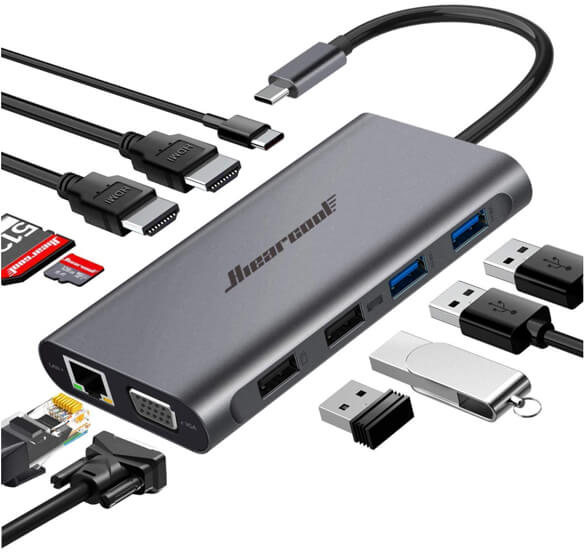 Unlike many of the cheaper docking stations being sold today, this one is well-built and made to stand up to heavy use.
While you probably won't have a need to connect something to every port on this docking station, I did it just to make sure everything worked correctly with no signal loss or other hiccups, and everything worked just fine.
I did notice that the docking station got pretty warm to the touch, but not warm enough to cause a concern.
With regular use with just a few devices plugged into it at once, this device should last for years.
While it works fine without one, I believe it would have been a good idea for the company to have provided a USB Type-C wall adapter to power this docking station.
A stand-alone power supply would reduce the power draw from the laptop which would make the laptop's battery charge last longer.
And if you plan to use the PD (Power Delivery) function the device will have to have a wall adapter. I believe that adapter should be included with the docking station, and it isn't.
Bottom line: If you have a newer MacBook Pro or another laptop that's really short on ports other than USB-C, this USB-C hub/docking station will allow you to use multiple devices with your machine.
And yes, that includes older "legacy" devices that have USB Type-A connectors on them.
In short, this is an excellent option if you really want to get the most out of your laptop and your existing collection of peripherals, but I do recommend that you use it with a stand-alone USB-C AC wall adapter (which is not included).
Click here to read more about the Hiearcool USB-C Hub / Laptop Docking Station at Amazon.
---