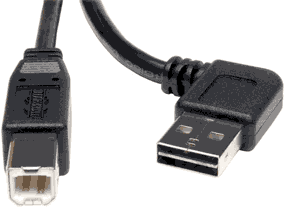 The other day I wrote a post in which I discussed how the upcoming USB 3.1 specification is going to call for USB cables that will plug into the socket either way without having to worry about "which way is up". In my opinion, that will be a huge step forward.
Well, an alert reader sent me an email this morning letting me know that Tripp-Lite already sells a line of reversible USB 2.0 cables that you can buy right now – and they're surprisingly inexpensive! 
Tripp-Lite's reversible USB cables come in a variety of configurations, but they all have reversible plugs on the host end. The one linked to right here
(#ad) at Amazon even has a right-angle connector to facilitate plugging it into the back of a computer without having to turn it around!
There are several other types of reversible Tripp-Lite USB cables for sale on Amazon as well. Simply type reversible USB cable into the search box to check them out.